The No. 8 ranked California Lutheran University Kingsmen opened up their 2015 season with three wins over non-conference opponents. They opened the weekend with a win over Whitworth University with a final score of 11-5 at Ullman Stadium on Feb. 6.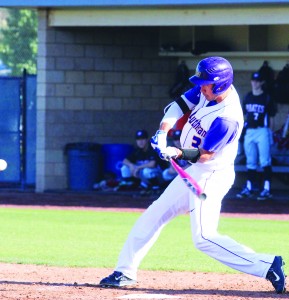 "It's always good to win the first one. That's what you hope for, to win the first one because now you're undefeated. When you can win your first one it's very important, especially when it's your home field, and this is our home field and we did a good job," said head coach Marty Slimak.
Senior captain Scott Peters was the starting pitcher and got the win for the Kingsmen, pitching a solid outing going seven innings with seven strikeouts. The left-hander only allowed four hits, two walks and one earned run.
"Efficiency was a big part. I got a lot of early strikes and they helped me out with a lot of first pitch swings but really just pounding the zone and pounding strikes," Peters said. " My main focus on the mound was just managing my emotions. This is my senior year. This is my chance to lead this team and I just really was focused on my emotions managing them and letting my fire get us a win."
The Cal Lutheran bats also caught fire from the very first pitch when both junior center fielder Justin Caña and senior second baseman Max Price hit back-to-back singles in the bottom of the first inning. After advancing into scoring position off a wild pitch, sophomore left fielder Gabe Gunter drove Caña in with a single of his own putting the Kingsmen on top 1-0.
Junior right fielder Ramsey Abushahla then drove in Price with a single of his own and Gunter scored off a sacrifice fly from junior third baseman Davey Casciola. After senior first baseman Collin Crowl was walked, sophomore shortstop Austin Kay drove home Abushahla with an RBI single putting the Kingsmen up 4-0.
"I think we were ready. We stayed in a very good plan. We were just trying to stay short at the dish and hit line drives and we just said 'let's just score early, get a lead, and put them on their heels a little bit' and I think we did that. I think our guys were ready to play," Slimak said.
In the second inning the Kingsmen kept the scoring going as Caña led off and was hit by a pitch. After Price drew a walk, junior designated hitter Kyle Sanchez laid down a sacrifice bunt advancing both runners into scoring position. Gunter then drove home Caña for his second run of the game with an RBI single.
Casciola continued the offensive surge with a  triple to left center field to score Gunter and Price to give the Kingsmen a seven run lead heading into the third inning.
Along with their solid offensive performance, the Kingsmen also put out a great effort on defense, emphasized by a great diving catch from Caña at the center field wall in the top of the fourth inning.
"I saw it off the bat and with the help of Ramsey [Abushahla] and Gabe [Gunter] counting me down to the fence and I was just tracking it all the way. I felt the warning track but I was just focusing on the ball and I just dove and caught it," Caña said.
In the top of the sixth Whitworth finally got on the board with a run but the Kingsmen answered back in the bottom half of the inning with another scoring outburst.
According to clusports.com, Price led the inning off with a walk followed by a single by Sanchez and another walk by Gunter which loaded the bases. Abushahla then hit a double to left center field to score Price and Sanchez.
Casciola grounded out to bring in Gunter in the very next at bat. Crowl then stepped up to the plate and tripled to left field to bring in  Abushahla giving the Kingsmen an 11-1 lead.
"In every inning we try to get the lead off guy and trust the people behind you," Caña said.
The Pirates were able to put together four consecutive runs in the eighth and ninth innings, but junior closer Landry Kiyabu came in and shut the door to give the Kingsmen an 11-5 victory.
Abushahla led the Kingsmen offense going 3-for-4 with three RBIs and two runs while Casciola had four RBIs while going  2-for-3 at the plate. Caña and Gunter also had two hits  and Price joined Gunter with three runs scored in his debut in a Kingsmen uniform.
The Kingsmen continued their opening weekend under rainy conditions against Puget Sound  on Feb. 7. The Kingsmen took the only game of a scheduled double-header by a final score of 7-3. According to clusports.com, due to heavy rain coming down there was a two hour weather delay which caused officials to cancel the second game.
Just like opening day the Kingsmen got off to a hot start producing a run off a pair of Puget Sound errors and a single from Price and a sacrifice bunt from Sanchez.
After Puget Sound took a 2-1 lead the Kingsmen opened the score up on the Loggers with a total of five runs off seven hits in the fourth through sixth innings to take a 7-2 lead. Gunter hit two singles and scored twice to go 3-for-5 with three runs and an RBI. After a one out triple by Sanchez, Puget Sound pulled sophomore starting pitcher Collin Maier off the mound. Sanchez eventually scored off one of Gunter's singles.
According to clusports.com, Casciola also collected hits in each inning with a single in the fifth and double that was almost a home run in the sixth. Crowl also had a productive game stroking a two run single for the final two runs for the Kingsmen.
Sophomore starting pitcher Trey Saito (1-0) got the win for the Kingsmen going seven innings with three strikeouts. Kiyabu finished the game off again and pitched the final two innings in scoreless fashion.
The Kingsmen rolled on and defeated Whitworth again 14-5 on Feb. 8. Sophomore pitcher Marshall Pautsch got his first career start and went five innings giving up two unearned runs and striking out two.
The Kingsmen offense continued to thrive gathering 17 hits and scoring nine of their 14 runs in the fourth through sixth innings. Leading the offensive attack was Sanchez who went 4-for-4 with seven RBIs.
The Kingsmen open up conference play on the road against Chapman on Feb. 20.
Randall Shumpert
Staff Writer
Published February 11, 2015