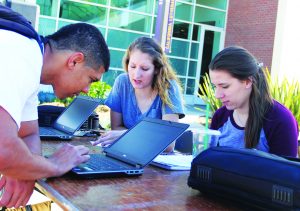 The Associated Students of California Lutheran University Government is currently in the process of having elections for their 2015-2016 Executive Cabinet positions.
ASCLUG's Executive Cabinet of five positions consists of a Controller, ASCLU Executive Recorder, Programs Board Director, Senate Director and President.
Cal Lutheran students vote for the Programs Board Director, Senate Director and President positions, while the Controller and ASCLU Recorder positions are appointed by the newly elected student body President.
With the Programs Board and Senate Director positions already decided, students will vote for the next ASCLU President in a runoff election on Feb. 18 and 19.
Students can access the election via Blackboard, with the election tab being located under "My Courses." Voting will open at 8 a.m. Wednesday and continue until Thursday at 5 p.m.
The two final candidates for next year's ASCLU President both bring extensive student government experience to the table.
Evan Carthen is one of the two candidates running for the President position, and he brings with him quality experience gained through being the Programs Board Director for the past year.
During his time on ASCLUG, Carthen was responsible for building a team of student representatives for Programs Board. After hand-picking his team of representatives, Carthen and the Programs Board strived to increase attendance at campus events and did their best to cater to all different types of students' needs.
With this being his third year on ASCLUG and also being a wellness intern for student life on campus, Carthen has gained the necessary experience needed in giving a voice to the Cal Lutheran community.
"It all has prepared me so much in terms of just seeing how diverse and how different the CLU community can be in so many different aspects," Carthen said. "As Programs Board Director, I have extended experience from that, not only knowing how to get students to an event, but also how to cater to different students' needs."
Giving voice to all students' needs and opinions is something that encompasses Carthen's objectives if elected ASCLUG President.
"As President, for the most part, I want to increase the diversity of our events and projects. Really [be] able to cater to as many students' needs as possible with different resolutions that we have," Carthen said. "I want to really be available for students to be able to talk to and be that voice that students can really come to and be able to expand upon their different ideas and attitudes towards different issues that we have on campus."
The second candidate running for ASCLUG's president position is Christina Sharkey.
Sharkey is currently a sophomore majoring in biology with a minor in chemistry.
Like Carthen, Sharkey has experience in student government here at Cal Lutheran. Entering her freshman year with an eagerness to be involved in campus life and events, Sharkey started as a committee member her freshman year  and was a committee chair this year.
Through organizing past events such as Howl at the Moon and the Homecoming Fair, Sharkey has gained a strong familiarity with faculty members and her fellow students at Cal Lutheran.
"My objective is to get everyone's improvements heard," Sharkey said. "And also to get more people involved as a community and campus. Getting people to vote and to know about our events."
Sharkey is also very adamant about how students should be aware of what's happening on campus and to be involved in their student government.
"To me I feel like if you really want a full college experience you have to experience everything that happens on campus," Sharkey said. "If students know what's happening on campus then people will really know who we are as a school."
Voting for the ASCLU President election will open at 8 a.m. Feb. 18, and will close at 5 p.m. Feb. 19.
Joseph Dalecio
Staff Writer
Published February 18th, 2015