Chances are most California Lutheran University students and staff have seen Eric Kamm walking around campus gleefully greeting all who walk by. He transferred to Cal Lutheran in the fall of 2014 as a traditional undergraduate student working toward a career as a high school history teacher. Kamm is also a part of an increasing population of students who are going back to school after 50.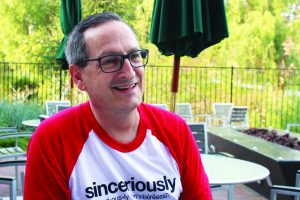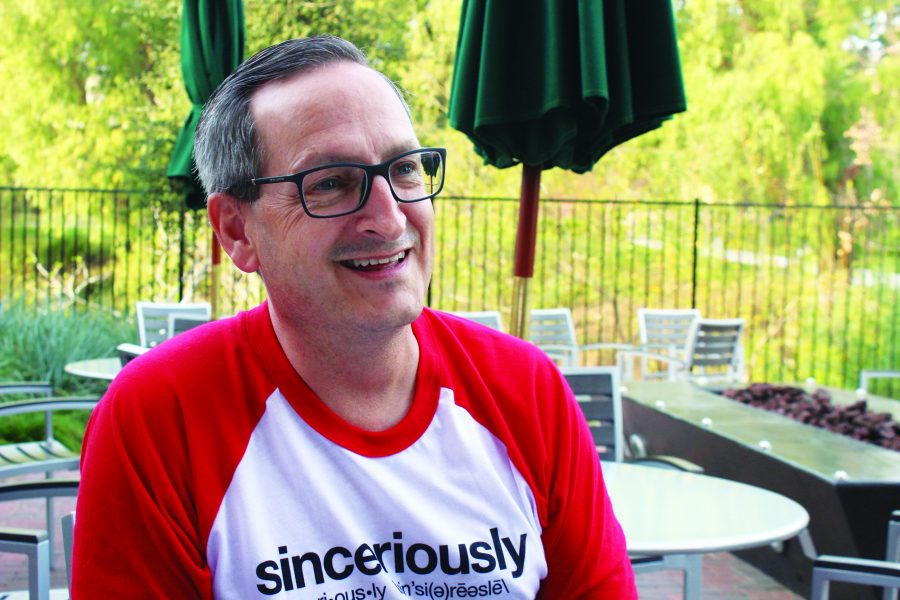 Kamm is 54 years old and has been an accountant for most of his life. He said he was interested in everything and as most students can understand, never knew what he wanted to be when he grew up. Finally the stars aligned and he was able to invest himself in completing his education through various scholarships and finding the school that was perfect for him.
"I'm 54-years-old, I have very little work life scheduled ahead of me and I'm financially stable. I'm doing this for me. I'm not getting my bachelor's for anyone else but me. Just to say I did it and to help me achieve this new chapter in my life," Kamm said.
He went to various colleges over the years such as  Southwestern Illinois College and Illinois State but he felt distractions outweighed his work.
"Throughout my life there has never been a driving force that I needed a degree," Kamm said.
After years of life experience, Kamm realized that being active in the community and making people feel like they're important and that their voice matters are the most important aspects of life. Kamm said this was his driving decision to become a teacher. He hopes to give his students the opportunity to learn from each other and create intelligent discussion on topics they're passionate about.
"I grew up as a product of the 60s. You leave the world in a better condition than you left it. This is my driving force. I've had a few people tell me my words have had a positive impact in their lives. That makes my life complete," Kamm said. "Now instead of giving, I'm taking and doing this for me. This is about me doing something for me for a change."
Kamm's fellow student and friend Michelle Cerami has experienced Kamm's positivity and drive first-hand.
"Eric had the courage to leave his full-time job in order to receive an education. He doesn't leave class. Leaving would be easy considering he has a part-time job, he's married and there's a huge age gap between him and other students, but he values his education," Cerami said.
He chose to continue his education at Cal Lutheran for a variety of reasons, one being it was in the family.
Students may also recognize Kamm's husband as Cal Lutheran's own Dr. Peter Carlson. Upon visiting the school with his husband, Kamm noticed immediately that Cal Lutheran was a different type of university environment, one that was invested in the success of its students, not allowing them to get lost in the numbers.
"I so was enamored from the time my husband was teaching as an adjunct here to the professors that he works with. I liked how they treated him and the respect he got for being himself," Kamm said.
This was especially present when Kamm would go to events with Carlson. He immediately noticed that the staff was interested in everyone there, not just the important noteworthy individuals.
"We went to this meet-and-greet once. Dr. Fogg and Dr. Kimball were there, both were exquisitely nice, exquisitely professional, but what was so impressive is they weren't just into speaking with my husband, they wanted to speak to me. They were interested in my life and my goals. That says volumes about the people who run this school. It says they're looking for quality," Kamm said.
Carlson said he is very proud that Kamm not only made the decision to go back to school, but that he chose to attend Cal Lutheran.
"I was proud as could be. He has supported me through lots of my Ph.D. program and I was pleased he wanted to continue his education too. I wouldn't have wanted him to go anywhere that wasn't excellent. I was pleased that he recognized Cal Lutheran's excellence and felt it would challenge him as a scholar," Carlson said.
Carlson  said he also hopes Cal Lutheran students can learn from Kamm's example.
"Finding your purpose is not something that happens here at California Lutheran University, and then settled for life, It's an ongoing life project. It's never too late to find a new purpose and it's always too soon to stop learning," Carlson said.
Kamm is grateful for all his husband's support and time, but said they keep their school life separate.
"I don't involve him because he's invested in other things and I'm going to do this on my own, but he's always supportive as a spouse and asks me how my day at school was," Kamm said.
Kamm said if he could give any advice to other students it would be to meet with their professors.
"Don't think that school is sitting down and having someone lecture at you. It's interactive. Your professors are there to help so don't be afraid. Step up and do your side of the work, people will help," Kamm said. "Don't give in to fear and disappear, someone will hold your hand. I will hold your hand and get you through any difficulties."
Mary Callaway
Staff Writer
Published February 25th, 2015