It's the Busiest Time of the Year
The California Lutheran University Office of Undergraduate Admission is preparing for the busiest two months of the year for student tours. According to Wes Sullivan, the assistant director of Admission and Campus Experience, the campus will be visited by many prospective students.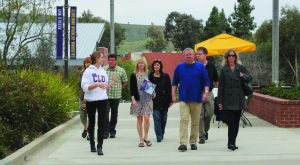 "The spring is definitely our busiest. We have probably about 40 percent of our total number of visitors for the year during the months of February, March and April," Sullivan said. "We see influxes of visitors from certain areas of the country as students are having their spring break."
As high school students approach decision time for their college choices, more students take tours of the campus according to Sullivan.
"The vast majority of people visiting now, during the spring months, are people that have been recently admitted and are trying to decide which school is the right fit for them," Sullivan said.
The large amount of prospective students means larger tour groups for volunteer student tour guides. Admission Associate Josie McDaniel said she has been giving tours since spring 2014, and is experiencing her second busy season.
"We will close out certain time periods per day to keep it a more personal experience. Usually we cap it at four families per tour," McDaniel said.
Because students have diverse academic interests, presidential hosts accommodate for that during their tours.
"We can ask them what they want to see and make sure they get to see those specific parts that they are most excited about or interested in," McDaniel said.
Meeting the student's needs can require longer periods of time.
"We give them an hour and a half. That would be a long full tour if they had lots of questions. But generally they are usually more like an hour," McDaniel said.
Another item that lengthens the time of the tour is the recent addition of Ullman Commons.
"At the end of the tour, we get to go inside Ullman Commons and they get to do an ice cream taste test," McDaniel said. "We extended the tour an extra half hour to accommodate that."
Presidential hosts are informed about the touring students beforehand however. Presidential host Anna Shepardson said the tour guides get slips of papers with information about where they are from, if they are interested in sports and what their religion is.
"During a tour, we will definitely keep it specified to that person and try to hit every part of campus like the academic corridor, the res [residence] halls and the athletic corridor," Shepardson said.
As well as personalizing each tour, the Office of Undergraduate Admission provides prospective students with several opportunities.
"They can sit in on a class if they like, and they can meet with a coach or a professor in their intended major if they want," McDaniel said. "Probably at least 75 percent [of tour participants] do something else besides the tour."
In order to prepare for the busy season, presidential hosts go on a retreat and recap tour content.
"We have an off-campus retreat at the beginning of second semester and that is so incoming pres hosts can interact and get to know pres hosts who have been there for a couple years," Shepardson said.
Presidential hosts are hired once a year in November and work as volunteers.
"It definitely takes a lot of passion and interest from students that do it," Sullivan said. "A lot of [the] time [we] hire for personality and train on the facts, so we are not looking for people that know everything about the campus, we are just looking for people that are passionate and want to share their CLU story."
Kevin Repich
Staff Writer
Published March 4th, 2015