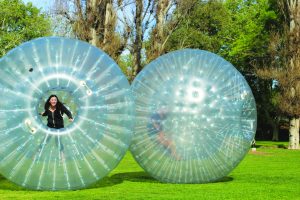 On Feb. 26 students gathered in Kingsmen Park to take a turn in one of the Zorb Balls. California Lutheran University Student Life provided students with three Zorb Balls to enjoy all afternoon.
Event organizer, Dominic Lunde, was inspired by a past event involving the Zorb Balls.
"I remember one time I saw these out here, and we had a lot of fun. I wanted to do it again, have a little more fun, make it a little more free," Lunde said.
Zorb Balls are large, plastic inflatable balls that are big enough for a person to stand or run inside. They suspend the participant in a bubble, cushioned by plastic and air, with a small entrance hole to climb in and out. Every once in a while, the balls need to be topped off with an air pump, but with all the running and bouncing around, they still keep their shape.
"They are kind of hot and smell a lot like plastic," said Xavier Galsim, a participant in the event. "Once you get the ball rolling it's pretty fun."
Once inside the balls, students held races and knocked each other around in the three Zorb Balls. Participants enjoyed the freedom of running, rolling, spinning and jumping in the balls and were also allowed to compete against their friends in races across the park or in bumper car-like behavior.
"At first we rolled around a bit and messed around and pushed each other," Galsim said. "Then the last minute, we lined up for a race."
Running in the balls proved to be more difficult than normal running.
"It's kind of like running in real life. It's just bouncier and you kind of have to use your hands to help the ball along," participant Sarah Delgado said.
When they reach a turning point, the individuals must stop the momentum of the ball, which is more difficult the faster the ball is going.
Another challenge came with avoiding the entrance hole while running.
"Sometimes if you're rolling along and the entrance hole comes out you have to step over it or else you fall through," Galsim said.
Despite their best efforts, several participants did end up accidentally falling though.
Students enjoyed the experience so much that many opted to take more than one turn in the balls, tiring themselves out each and every time.
The Zorb Ball event is the first of five in the series of "Afternoon Adventures." All events are to be during the day and on campus for Cal Lutheran students to take full advantage of.
"We're doing mobile archery. We're doing basically an archery war with foam tip balls and face masks and everything, rock wall, Jacob's ladder, mini golf and then black light lazer tag in the gym," Lunde said.
Every event, except black light lazer tag, will be held in Kingsmen Park.
The next "Afternoon Adventures" event will be mobile archery on March 12 from 2-5 p.m. For more information, visit and like the Cal Lutheran Rec Sports Facebook page.
Allie Leslie
Senior Writer
Published March 4th, 2015