Knights Leave Tigers Empty-Handed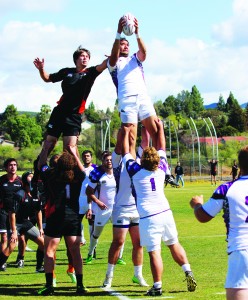 The California Lutheran University Knights shut out the Occidental Tigers on Feb. 28 in a 44-0 victory.
This win moves the Knights up a spot to third place in their division, giving them an even better shot at going to the playoffs, according to Knights coach Steve Stone.
"The top three small schools go through to the playoffs, and whoever wins the playoffs goes to nationals," Stone said.
Early in the game, Occidental carried the ball deep into Cal Lutheran territory.  After a few plays, David Lederer moved it back to Occidental territory.  Lederer went on to score the first try of the game, giving Cal Lutheran a 5-0 lead.
Dakota Reistad had a strong game, scoring a hat trick of three tries for Cal Lutheran, totaling 15 points.  Ted Knehans followed up one of those tries with a two-point conversion.
At halftime the Knights were up 17-0.
"If you score a certain amount of tries, and you don't let them score a certain amount of tries, you get bonus points.  Because we got bonus points today, it helps us if we drop a game," Lederer said.
The Knights got better with time.  The second half of the game garnered tries from Reistad, Richard Calhoun, Dean Starros and Lederer, with a conversion from Lederer near the end.
"It was a team effort, and that what we work on in practices.  Whether you're starting 15, you're the reserves, or you don't make the squad, it's all about one big club," Stone said.
Before this victory over Occidental, the Knights had three weeks with no games.  They used the time to train hard and "grow as a team," according to Lederer.
"I feel like all of us knew what we wanted to do, and we wanted to come out with a win," co-captain for the Knights Aaron Bowman said.
Occidental carried the ball numerous times and was close to scoring on more than one occasion.  However, Cal Lutheran proved to be a formidable opponent and the Tigers ended the game with no points.
The weeks of training and team spirit were the biggest factors contributing to this win, according to Bowman, Lederer and Stone.
The Knights are a Division II rugby team affiliated with Gold Coast Conference Intercollegiate Rugby.  They are currently ranked third in their division according to the GCCIR website.
They are currently ranked sixth in their division, with one win and three losses, according to GCCIR.  Bowman, Lederer and Stone hope Nationals will be in the Knights future, especially if they keep playing how they did against Occidental.
"That's our goal every year, is to get to the national playoffs," Stone said.
Lederer said he hopes nationals will come, and that they will win out for the rest of the season.
They are a club sport, so anyone who wants to play and learn rugby can come out.  Stone said he  encourages participation from anyone who shows interest, regardless of fitness level or knowledge of the game itself. 
"It's a contact game, obviously.  You've got to be fit, but we're a club sport, one big happy family, you know. We socialize together, we chill out, we train hard, so if anyone wants to come and give it a go, they're more than welcome," Stone said.
The Knights have two league games left.  March 7 will be played at Azusa Pacific University, and their last home game on March 14 will be played against UC Riverside at 1 p.m. at North Field.
Katrina Petty
Staff Writer
Published March 4th, 2015