Walking Out of the Darkness
On March 7, California Lutheran University worked with the American Foundation for Suicide Prevention to host a suicide prevention walk on campus.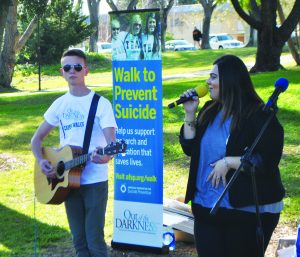 Participants gathered to listen to speakers, meet others affected by suicide and supportive organizations and also walk together. They raised both awareness and money for the cause and hope to make this an annual event.
"It's a fundraising and awareness walk for the American Foundation and our organization funds research to help identify treatment opportunities for suicide prevention," said Traute Winters, AFSP Los Angeles area director and one of the coordinator of the event. "We also do education and outreach programs in the community and for schools. We do support programs so the money is going to all those areas."
Eighty-two registered walkers raised roughly $6,000 for the cause.
"I raised, I think, it was $890," said Hanna Cressy, a participant and one of the top fundraisers for the walk. "I just posted a link on Facebook and like asked people and they did it."
This is the first time Cal Lutheran has collaborated with AFSP to host the event.
"I'm glad that CLU is involved," said Melinda Miranda, a graduate student working at the Community Counseling Center in Oxnard. "I just kind of see it growing from here."
The event involved more fundraising. A big part of it was the support and connections formed among people who have been affected by the same thing. According to the AFSP, 32,000 people in the United States die by suicide, leaving behind millions of affected family and friends.
The walk "brings awareness out into the community and it brings people out who have a connection to the cause and it helps raise awareness for suicide prevention," Winters said.
Former Cal Lutheran President Howard Wennes spoke at the event about his experience of being affected by a loved one's suicide.
However, the walk was not a negative experience. It was focused on raising awareness and hope through support.
"It's nice to talk to other participants who, you know, they have a heart for this," Miranda said. "Either they've been affected or they just really have a heart for other people and care about mental illness and bringing that awareness."
The walk was filled with success stories, support and hope. It was not a race but a group journey to raise awareness. Participants walked together to show their support for one another.
Several counselors from the Community Counseling Center were present to talk to, and all wore red vests so participants would know who to speak with.  Beyond the Center and AFSP, several other organizations were present such as the National Association for Mental Illness, Out of Darkness and Red White and Blue, a veterans group based in Ventura County.
"Hope is big. A lack of hope and purpose seems to be a really crucial factor for those who are suicidal and those who have been affected by suicide," Miranda said. She said she recommends being direct with people affected by suicide and suicidal thoughts and helping them to find support or counseling in any way they feel comfortable.
If you or anyone you know is struggling with suicidal thoughts, you should seek help as soon as possible through Counseling Services on campus at http://www.callutheran.edu/counseling_services/, a health care professional, the Community Counseling Center, or the National Suicide Prevention Lifeline at 1-800-273-8255.
Allie Leslie
Senior Writer
Published March 11, 2015