Bulldogs' Walk-off Bites Kingsmen
California Lutheran University's baseball team dropped two out of a three-game series to its rival Redlands in a Southern California Intercollegiate Athletic Conference matchup on March 20-21.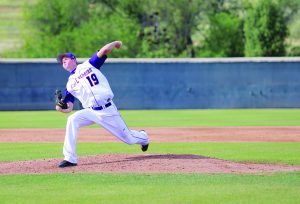 On March 20 the Kingsmen beat the Bulldogs 5-4 in a walk-off win in extra innings at Ullman Stadium before heading off to Redlands for a double header on March 21. Redlands swept the series on Saturday with a final score of 3-0 in game one and 9-8 in game two.
According to clusports.com,  in game one the Kingsmen faced Redlands' ace, freshman Felix Minjarez, who leads the conference in wins with a 6-0 record. Minjarez pitched a solid game, throwing seven and two-third innings with 10 strikeouts.
However the Kingsmen were able to combat Minjarez with an ace of their own with senior Scott Peters. Peters threw nine innings giving up three earned runs and striking out five.
"I feel like we didn't perform our best, but we ended up coming through in the end. We showed a lot of fight even though it wasn't our best game," sophomore outfielder Gabe Gunter said. "They had their ace on the mound so we knew we had to battle against him because he hasn't lost a game this year." 
Gunter had a homerun in the first inning of Friday's game, tying the game at one a piece.
Redlands was able to take a 4-2 lead after the sixth but the Kingsmen would not go quietly into the night.
In the bottom of the eighth inning sophomore outfielder Nick Cohan hit a triple allowing senior infielders Max Price and Collin Crowl to score and tie the game 4-4.
"We battled today," Cohan said. "We faced a really good freshman pitcher, and it wasn't easy in the beginning. But once we started getting [into] later innings he got a little tired and we took advantage, and we ended up putting in a couple runs in the eighth off him to get us into extras."
In the bottom of the tenth inning junior outfielder Ramsey Abushahla led off with a single and advanced on a sacrifice bunt from freshman infielder Jeff Rebello. Cohan and sophomore infielder Anthony Schirtz were both walked to load the bases for freshman infielder Erik Whittlesey.
Whittlesey was able to draw a walk of his own scoring Abushahla and giving the Kingsmen the win.
"I was just trying to see a pitch up and drive it into the outfield," Cohan said. "To score or hit a sac fly, drive the ball hard, just hit it hard somewhere. He gave me some good pitches to hit. I fouled them off but eventually walked and then the guys behind us stepped up and ended up getting the win for us."
In preparation for this series against Redlands, Gunter said the team had two really hard practices after their Tuesday game.
"We did a lot of running, a lot of intense drills to get prepared because we knew this was a really big series. We need to at least win the series, or all three games. We have to win," Gunter said.
The Kingsmen were eager to carry the momentum into the doubleheader on March 21.
"Tomorrow is going to be another big test for us and we need to just bring it and see what happens. It should be good," Peters said.
However Cal Lutheran could not bring the momentum to the doubleheader on Saturday as they dropped both games. This was the first time since 2012 the Kingsmen were swept in a conference doubleheader.
According to clusports.com, the Kingsmen were shutout in a conference game for the first time since 2013 in game one.
Freshman Matthew Acosta had the best outing of his season for the Bulldogs, going seven and two-third shutout innings.
According to clusports.com, the Kingsmen outhit the Bulldogs 10-9, but they could not score any runs.
Game two of the doubleheader was different as the Kingsmen had plenty of runs but fell short, with Redlands winning with a walk-off in the bottom of the ninth.
Abushahla came up with an RBI single in the first inning and a two-run homerun in the second inning allowing Cal Lutheran to take a 5-0 lead after the second inning.
Redlands answered by scoring in four straight innings, taking an 8-7 lead, but Gunter tied up the game in the eighth with an RBI single.
Redlands won in the bottom of the ninth with a final score of 9-8.
The  Kingsmen look to turn things around against non-conference opponent Massachusetts Institute of Technology on March 26, followed by a three-game series against conference foe Whittier on March 27-28.
Amber Rocha
Staff Writer
Published March 25th, 2015