Kingsmen Rally for Senior Day Sweep
Over the weekend of April 10-11, the Kingsmen baseball team put up a fight in their series with  the University of La Verne.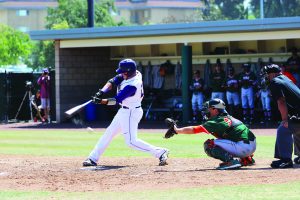 The series started on La Verne's campus Friday afternoon where the Kingsmen came up short in a 5-4 loss against the Leopards.
When game play moved to their home field on Saturday, the Kingsmen made it clear that the next two games were going to be a different story.
The Kingsmen's pitching and clutch hitting allowed them to defeat the Leopards in both games of the doubleheader on Saturday by scores of 3-1 and 2-1.
Head coach Marty Slimak approached the weekend with high expectations for his team.
"We went into the weekend feeling very confident, but we got beat down there on Friday. Coming into these two games today, you know the pressure is on you, and you really have to perform well, and our guys for the most part did great," Slimak said.
The two games on Saturday were not only special because of the exciting victories but because it was the day the team got to recognize their seniors.
Senior Day for the Kingsmen did not disappoint. Slimak said he was excited the team could give the seniors two wins on Saturday.
Infielders Collin Crowl and Nico Filice, pitcher Scott Peters and catchers Spencer DuBois  and Chris Whitmer were honored Saturday before the games began.
Accompanied by their families, the senior Kingsmen looked back on their time on the field together.
These players were able to win two conference championships together but have made it clear that they are not done leaving their mark on this program's history.
"We're not done yet," DuBois said.
Although DuBois is still eager to accomplish more in his career here at Cal Lutheran before graduation in May, he looked back at some of his favorite memories in a Kingsmen uniform.
"[They have] to be our two conference championships when we got to dog pile on the mound out there. You really can't beat that feeling," DuBois said
Crowl also agreed that winning a championship was one of his favorite memories. 
Transferring from Ohlone College, Crowl said that he found everything he was looking for when he came to Cal Lutheran.
"I transferred in here. I was looking for a new opportunity and a new start, and the coaching staff here and the people around me have given me nothing but that, and I can't thank them enough for that. It's just been a great opportunity," Crowl said.
Crowl and DuBois also have some advice that they would like to leave to their underclassmen teammates.
Crowl wants his teammates to appreciate the time they get to spend together and to remember something important.
"It's a hard game to play, but it's a great game. It shows character, and it reveals it," Crowl said.
DuBois echoed Crowl's statement about cherishing the moments they have left together.
"Enjoy it. It really does fly by, so soak up every minute and leave it all out on the field. Give everything you have at all times because it will be over before you know it," DuBois said.
The Kingsmen play next at home on April 17 against Occidental at 3pm.
Heather Tomaszewski
Staff Writer Published
April 15th, 2015