Jordan Card: A Leader In and Out of the Pool
Tenacious, strong, caring and a great leader are just some of the words that Jordan Card's coaches use to describe her.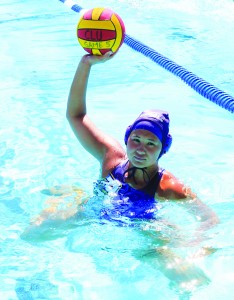 Card is a senior  math major and physics minor at California Lutheran University. Card is the captain of the water polo team and has been playing since her freshman year. She plays hole set, which is the equivalent to playing center in basketball.
"My greatest accomplishment was being a two-time All-American in Division III," Card said.
According to NCAA.com, the All-American is an "honorary team from any American college sports composed of outstanding amateur players. Those considered the best players for a specific season for each team position."
By the age of 2, Card was swimming in "mommy and me" classes with her father, because her mom does not like water and swimming.
"I didn't start swimming competitively until I was in the eighth grade, and then I started joining the high school swim team," Card said.
Card has played other sports like soccer and softball, and in high school she played golf and ran track and field. Card said she also likes archery, which she and her brother do together.  Card's brother Zack is a sophomore at Cal Lutheran and also plays on the water polo team.
"I love water polo because I get to beat up on people, and it's also relaxing. If I feel like crying I just go for a swim and no one will know I'm crying because there's water in my face," Card said.
Card said the hardest part about playing is her size. She is 5 feet 4 inches tall.
Cody Pletcher has been assistant coach for the water polo team at Cal Lutheran for eight years, and has known Card for all her four years as a Regal. Pletcher said Card never quits in any situation. 
"She is very tenacious and never gives up on the play. Jordan gets her job done with her size," Pletcher said. "She always gets position if the ball comes in. She's always going to do something. It's always good with any athlete when you instruct them to do something and they do it the first time."
Kaylee Kastrup is a co-captain for the water-polo team and has been a teammate of Card's since her freshman year. Kastrup said she has known Card all four years at Cal Lutheran and Kastrup and Card are currently the only two seniors on the team.She said they both work well during a game.
"She seems to give her heart out, and she's a very strong leader, but we seem to compliment each other well. She can be forceful and she knows what she needs to get done and she'll get it done," Kastrup said.
Before each season begins, Card sets new goals for herself.
"I find the records from previous years and then those are my new goals. Number of kick-outs, number of goals – those are the main ones. It's by season and your entire career," Card said.
Card has put herself in the Cal Lutheran record books in several categories. Going into this season, she was sixth all-time in career goals scored with 123, and sixth all-time in drawn ejections with 136.
"She means a lot to our offense. If she's not playing well, meaning dry ejections or holding position, then offense is not playing well," Pletcher said. "Last game she earned a score record nine drawn ejections in the SCIAC game, and a large part was due to her position."
Card said water polo wasn't an Olympic sport until 2004. A lot of people think it's "water volleyball" and they are just wearing bikinis. Card said people don't realize what the sport is and how hard it is. Card said it's a mixture of basketball, soccer and wrestling in water, and the sport requires a lot of training.
"So every Monday, Wednesday and Friday we have practice from 1:30-4:30 p.m.  On Tuesdays and Thursdays we have weightlifting from 6:45-7:45 a.m. and then we have an afternoon practice from 2-4:15 p.m.," Card said.
Card said after graduating from Cal Lutheran she will be taking next year off and will be visiting her uncle in China and then traveling around Asia. Card said she would also like to go to graduate school for math.
Card currently coaches kids in water polo and tutors them in math and is hoping to coach a high school water polo team after graduation.
Pletcher said he thinks Card will be a math professor at Harvard, Yale or maybe even Cal Lutheran and will have her own tutoring business. Pletcher said whatever Card does she'll be successful at it.
Kastrup said Card is a great leader and will succeed at whatever she does.
"She is looking for high school jobs right now, and I think she'll be successful," Kastrup said. "I've watched her be successful in the pool so I assume she'll be successful out of the pool, and I've watched her as a coach and she'll be successful as one."
Wais Niazi
Staff Writer
Published April 15th, 2015