Senior Veronica Pak is passionate about bringing awareness to the effect of mental illness and is taking great strides to do so.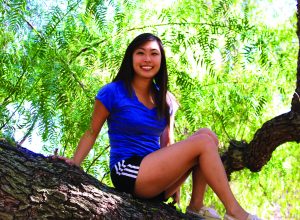 Pak is an intern for the National Alliance on Mental Illness.  NAMI works around the country to bring awareness to a disease that affects 44 million adults nationwide, according to the NAMI website.  Pak also organizes various walks throughout Ventura County to promote NAMI and mental illness awareness.
"What this walk does is help promote all these programs.  Since it's a nonprofit, we get money from the government and from people who donate, so this walk is basically donating for these different programs," Pak said.
Pak became an intern at the organization after consulting Career Services.  Lauren Arzu, program coordinator for the Ventura County Community Foundation's Center for Nonprofit Leadership said in an email interview that Pak was matched to their organization through VCCF.
"Veronica applied for the Youth Engagement Internship through a posting with the CLU Career Center and was placed with NAMI because she had a special interest in mental health and experience with social media," Arzu said.
Joan Wiggins, NAMI coordinator for Ventura County said, "NAMI Ventura County specifically needed someone who could improve our social media presence, as will as our presence on college and high school campuses with the NAMI on campus clubs, which are student run NAMI clubs."
Pak stepped in and has since put on numerous walks throughout the county to raise money for mental illness programs.  Some recent locations for these events include Moorpark College and Oak Park High School where a virtual walk took place.
To put on one walk requires a team effort and that is exactly what Pak has.  She is in charge of six to seven individuals who help her promote and run the different events throughout the year.  Her team name is 'Fight Stigma.'
"I help all these walks run their courses.  So whatever they need, I'm always there to help answer questions," Pak said.
Wiggins said Pak's assistance with NAMI's social media presence as well as walk organization has been invaluable.
"When Veronica started we had an active Facebook page, but not a Facebook fan page.  We had a Twitter account, but rarely tweeted and no Instagram.  Veronica created the Facebook fan page, reinvigorated our Twitter account and created an Instagram account," Wiggins said.
"Veronica has increased awareness about NAMI on the CLU campus and in the community," Arzu said.
Pak, Wiggins and NAMI believe bringing awareness to mental illness is the only way to rid the disease of its stigma, and these walks help to do just that.
"When a family member has mental illness, it's really difficult because they have this stigma currently going on right now about mental illness.  So if someone says, 'I have mental illness,' you kind of just want to stay away from them," Pak said.
"When 1,500 people gather together to celebrate and fight against stigma, and help NAMI, people notice. When we can draw attention to the problem of stigma and publicly denounce it, all while having a great time, we can really make a difference in peoples lives," Wiggins said.
Pak is determined to keep the momentum with NAMI going even after she graduates.  She is currently putting together a portfolio for the next intern of all the work that has been done and what is left to do.
"Everyone who works [at NAMI], they all care.  They're always willing to listen and they want a change in the community," Pak said.
NAMI is hosting one of their walks on May 2, at the Ventura Beach Promenade.  To participate, visit the NAMI website at nami.org.
Katrina Petty
Staff Writer
Published April 22nd, 2015