Changes Ahead for the American Sign Language Classes
There is some rearranging of courses going on between departments on campus right under our noses.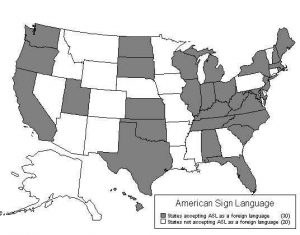 The California Lutheran University communication department has always overseen American Sign Language courses on campus, but that is soon to change.
ASL courses are meant to teach how to communicate alternatively with people. This is why it made sense for these courses homes to be in the communication department. However, after some consideration the communication team, led by the chair of the department, Dru Pagliasotti, decided that their department is not the best for ASL courses at Cal Lutheran.
This reasoning is based upon the concept that ASL courses can be considered a foreign language. The communication department is not the perfect team to lead foreign language courses.
"It has become increasingly clear, especially after it got voted to count as a foreign language, that we're not really the best department to manage a course like that because none of us have any experience in what makes a good language course," Pagliasotti said.
The first thought was to move the ASL classes to the Modern Languages department on campus, but after the Modern Languages department voted not to let it join, ASL classes had to find their home in another department.
After a long search for placement, the ASL courses are moving from the communication department to the Interdisciplinary Educational Studies program.
This program trains their students to become teachers, it was a perfect fit.
While Cal Lutheran's ASL courses have found a department that fits, there will course be a transition period.
The courses will no longer be a comm unication 161 or communication 361 class, and might even get a name of their own. This might look something like ASL 101.
The communication department will soon discontinue teaching ASL courses to transition into the Interdisciplinary Education Studies program. Ashley McCoy, a junior at Cal Lutheran, said she believes this is a change that makes sense.
"I didn't know that sign language courses were under the communication department. It makes sense that they're moving it though," McCoy said.
It may be a concern that the transition stage may affect some students negatively. While there are some changes going on, it is important to remember that the courses are being moved to benefit students.
The leaders of the university are doing their best to make this transition period as smooth as possible, because the education of their students is always the first priority.
Heather Tomaszewski
Staff Writer
Published April 29th, 2015