Friends, family and faculty members gathered in the William Rolland Art Gallery on April 25 at the California Lutheran University campus to celebrate the Senior Art Exhibit.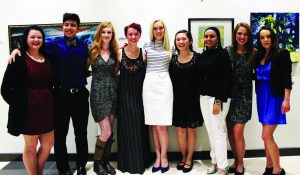 "This is one of the finest shows I've actually ever seen here. Out of all of the shows I've seen here, this is one of the best, student produced or not," said art instructor Barry Burns.
There were a total of nine students who showcased their pieces at the gallery. All of these artists portrayed different themes and represented a part of them.
Kiana Matsuura, a senior art major with a minor in multimedia was one of the artists featured. Matsuura said she wanted to focus on the theme of repose in art, especially women in art. She said women are often depicted as objects and they are portrayed in sexist and misogynistic ways.
"I sort of wanted to update the theme of repose and give power back to the women and show realistic repose," Matsuura said.
Shireen Mariyum Ismail, a senior double majoring in biochemistry and art with a minor in religion, was a participant in the senior art exhibit. Ismail said she approaches art work very technically, just like she would approach science. Ismail said she's interested in Islamic culture and seeks inspiration from Islamic history and art.
"Last semester I just did a whole bunch of research on Islamic art and Islamic calligraphy, and then this semester I went into kind of translating the sound of the Quran recitation to art work," Ismail said.
Senior art major Kaitlyn Horpedahl's, work differs from the rest of her peers. Horpedahl showcased two chairs that she upholstered with colorful fabric, shapes and patterns. Horpedahl said she was exposed to art at a very young age because both of her parents worked in theatre.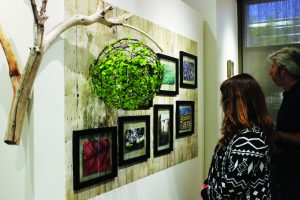 "A lot of what I do is because I am from New Mexico. It's inspired by that landscape. My love of nature and traveling and just all that, comes together," Horpedahl said. "I upholstered the two chairs because a lot of what I do isn't strictly sort of quote, unquote 'studio art.' So I wanted to incorporate the other things I do. I do a lot of upholstery for theatre and wanted to bring that into the show."
Matsuura said she has always been an artist, but coming out of high school she was actually planning on doing pharmacy, or even library science.
"It wasn't even until I got into CLU that I realized being an artist for a living is really possible. So that's when I got really serious about art," Matsuura said. "I think it was a combination of life events that made me realize being an artist is like a real career and it's not just a hobby."
Burns said he knows an artist who came from Newbury Park who made $6 million dollars last year, and said he has trouble associating the perception people have with the poor artist routine.
Matsuura said to anyone thinking about going into art who isn't sure if they'll be able to make a living, to just go for it and follow your passion.
"I'm looking to be a visual development artist for animation, but I might do graphic art or concept art or something along those lines," Matsuura said.
Ismail said she plans on doing a lot more Islamic art work in the summer. She's planning on going to medical school and her goal is to be a doctor who still paints.
"My office is going to be filled with all sorts of cool paintings and people are going to be like 'who painted that?' And I'll be like 'It was me,'" Ismail said.
Burns said there's a lot of different ways to be creative, but people tend to only associate it with drawing and painting. It's really just making something out of nothing.
"I love to address the seniors of the show and just tell them very simply 'never to give up,'" Burns said.
Wais Niazi
Staff Writer
Published April 29th, 2015