The Hip-Hop Organization club, or H2O as it is more widely known, used its dance skills not only to entertain but also for a good cause.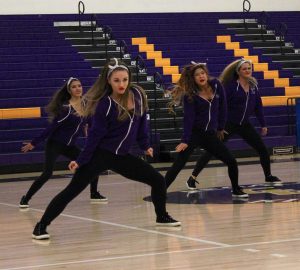 On May 1, H2O held its 10th annual 'Make Your Move' Dance Showcase in the Gilbert Arena at California Lutheran University.
"We put it on pretty much as a fundraiser. We pick a non-profit every year and that also changes. So we charge an entrance fee, we have a raffle, we have concessions and that money goes to that non-profit," said Justina Posadas, a junior and co-vice president of H2O.
According to H2O president Fransheska Berrios the past few years the showcase beneficiaries have coincidentally been dance oriented non-profits. This time, however, it was not.
"This year the money is going to School on Wheels which is an organization that provides school supplies and tutoring and support for homeless students, K – 12. It's a pretty widespread organization," Berrios said.
According to schoolonwheels.org, the organization helps children who live in shelters, group foster homes, cars, motels and domestic violence shelters. There are more than 163,000 homeless children in the school districts the organization serves and they provide volunteer tutoring services in six counties: Santa Barbara, Ventura, Los Angeles, Orange, Riverside and San Bernardino.
The showcase was free for Cal Lutheran students, but a donation of school supplies was required for entrance in addition to either a $3 entrance fee or a donation for any non-Cal Lutheran student in attendance.
According to Posadas, each showcase is very similar in the way the event is handled. The club invites groups from all over to come and dance.
"The only thing that varies is what groups come because they change every year. The dances we do, they're very similar but because we get groups from all over, you never see the same show twice," Posadas said.
The newest group added to the lineup this year is the Cal Lutheran H2O alumni group.
"Our alumni actually got together to perform a dance. So they were a part of our club, and they've been working, trying to contact each other from out wherever they are, and they came and they're performing," Posadas said.
Dancing in the group were Kaitlyn Guilbeaux, Amanda Escalante and Paolo Da Silva, all class of 2014 graduates.
"I'm really happy to be back… I'm excited. Hopefully I get to come back again next year," Da Silva said.
Guilbeaux was president of H2O all four years she attended Cal Lutheran. She said for her it was natural to be back.
"I'm so excited. This has always been one of my favorite events of the year so I'm so excited I could be a part of it again," Guilbeaux said.
Guilbeaux said the alumni performed a '90s themed dance performance, a "throwback hip-hop routine." The performance was choreographed by Guilbeaux and Lacy Williams, another alumna.
Guilbeaux, Escalante and Williams also emceed the whole event, introducing each performer and announcing the raffle winners.
Another H2O and Cal Lutheran alumni participating in the event was Stacy Gross, who performs every year with her Zumba group. After the performance, Gross led a participatory Zumba class right after the showcase, for audience participation.
The on-campus performers that participated included Cal Lutheran Dance Team, DMC and Cal Lutheran's hip hop class. Natalie Ferreya and Jesse Hu, two Cal Lutheran  students, performed in the showcase as soloists. Pink Fun, a duo performed three songs at the event as well.
"As far as off-campus, we have a lot of friends who come from Northridge, College of the Canyons, Santa Barbara and Channel Islands. Some of them can't make it every year, but we always have a couple," Berrios said. "This year we have Breaking Pointe from Channel Islands, Aspire Dance Studio that just opened in town. We have Santa Barbara High School, our club advisor is the son of their team director."
Berrios encourages students to join the club.
"If you want to join the club, there's no prior dance experience required. Most of us have never danced a day in our lives before joining the club so it's totally open for anybody, and it's a ton of fun," Berrios said. "We all just become a family in the process. That's why we have our alumni here today. They're my relatives, you know."
For more experienced dancers, the club will also help to challenge those skill sets by giving dancers the opportunity to choreograph dances according to Terrazas.
If your dance club, crew or company would like to participate in the next H2O showcase, contact next year's H2O presidents Justina Posadas or Marbella Jimenez.
Amber Rocha
Staff Writer
Published May 6th, 2015