A position for Vice President of Mission and Identity has been created and given to California Lutheran University's former Campus Pastor, Melissa Maxwell-Doherty, who will join the school's Administrative Leadership team.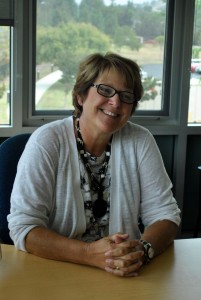 According to President Kimball's newsletter update, the new division will be involved with collaborating amongst the Office of Campus Ministry, Congregational Relations, the Office of Seminary Relations, the Belgum Chair and much more.
President Kimball said the ultimate goal of the recently added structure is to produce effective and mutual cooperation with several campus departments, as well as to manage CLU's sense of individuality.
"All of us embody the mission of the university and this is a way to keep that in the forefront," Melissa Maxwell-Doherty said. "A perspective student, a perspective faculty person, staff person, the community may wonder 'well, what kind of a place is this?' So we're always telling that story of who we are and how we live out our mission to educate globally."
Joining the CLU staff in 2000, Melissa Maxwell-Doherty had previously served congregations in locations ranging from Arizona to North Dakota before arriving to Cal Lutheran as a campus pastor. Melissa Maxwell-Doherty has already gained experience in her new job as she had attended Administrative Leadership team meetings, beginning in 2007.
The need for this position comes from the issue of disorganized campus departments that were completing these various duties, without a leader to guide and direct them with cohesion. With the addition of a vice presidential role, Melissa Maxwell-Doherty's biggest responsibility will be to spread the wide-ranging ideologies of Lutheran education throughout the campus.
"While it is a position that oversees the work of a division, that division's mission is to be about the business of connecting the university to other congregations and worshiping communities, and then, as an external expression." Campus Pastor Scott Maxwell-Doherty said.
Scott Maxwell-Doherty said this new position will help the university constantly refine, focus and deliver Cal Lutheran's internal mission.
Before accepting her current job, Melissa Maxwell-Doherty had been a Lutheran pastor for 34 years and a campus pastor for 15 years. Although she is still a Lutheran pastor, Melissa had to let go of her previous job as CLU campus pastor.
"I think all of us bought into the vision, but to do this work meant letting go of your first love. For me, in terms of connection to students, I need to be more creative as to how I do that,"  Melissa Maxwell-Doherty said.
Melissa Maxwell-Doherty will be collaborating with interfaith strategist professor Rahuldeep Gill, concerning the communication of the religious and non-religious traditions within the student body.
She will also be communicating with the director of CLU's Theology and Christian Leadership program, Colleen Windham-Hughes, who has a doctorate in religious studies, regarding Lutheran constituencies who support higher education.
"Cal Lutheran has not had a division of Mission and Identity before and yet has had all sorts of expectations that students discover their purpose or figure out what their vocation is or develop interfaith competencies," Windham-Hughes said.
Windham-Hughes said this new position will give people opportunities to explore their purpose. Also, it will allow Cal Lutheran to cast a vision and articulate what the public good is.
Scott Maxwell-Doherty said Melissa Maxwell-Doherty provides a solid theological perspective amongst her peers because her way of thinking helps others gain clarity.
Melissa said that delivering weekly religious devotions for a set of CLU leaders as well as her responsibilities on the strategic planning committee may have played a role in her selection as the new vice president. However, she also believes that gender was taken into account and that the need for a woman's voice was essential as she took on more obligations without authority.
"She's not wired for a life of 'I'm going to try this for a while.' No, this is 'I got asked if I want to do this job, I said to yes to doing this job, I'm going to do this job,'" Scott Maxwell-Doherty said.
Leina Rayshouny
Staff Writer
Published September 16, 2015