It was announced Mid-August that California Lutheran University is once again partnering up with PepsiCo Inc., and is becoming a Pepsi-exclusive campus for the first time since 2005.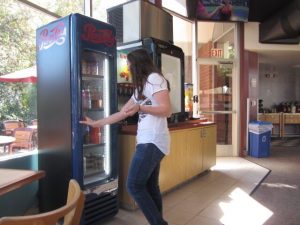 At the beginning of 2015, Pepsi approached Cal Lutheran with an offer that was too good for the school to turn down, according to Associate Vice President of Planning and Services at Cal Lutheran, Ryan Van Ommermen, at Cal Lutheran. In return, the school only supplies products from Pepsi.
Van Ommermen said Cal Lutheran had deals with both Pepsi and Coca-Cola Co. in the past. The first deal with Pepsi was initiated in 2000 and lasted until 2005, but was taken over by Coca-Cola in 2005. The last six years, the University has not had any deals with either Pepsi or Coca-Cola.
A deal from Coca-Cola was also entertained by the school, but Coca-Cola's offer was not nearly as good as what Pepsi had to offer.
"The Pepsi deal was a much better deal for the school," Van Ommeren said.
According to Van Ommermen, having a deal with a beverage company like Pepsi is far better financially for the school than to be without any deal at all.
"[With or without a deal] either way, we would receive a commission on sales, but it was very low. I want to say, less than $20,000 a year," Van Ommeren said. "So, under those circumstances, if the book store wanted to bring in a Pepsi product and all we are doing is paying the commission, then Coke could not have said no."
The deal with Pepsi is valuable for the university, and Pepsi will pay the university a set amount of money each year if the school does not let any Coca-Cola products on campus.
"I can tell you it's more than a student paying full-time tuition," Van Ommeren said."The decision [to become Pepsi-exclusive] was made to bring in another revenue source to substitute our operations, so we can have an additional source of income [other] than tuition and fees. We had the overall best interest of students at heart."
The athletics department is given $5,000 a year worth of Gatorade products with the Pepsi deal.
"They offered two and a half times what Coke offered, but I will say that we did feel like the Gatorade line, in particular, is something that our students are more interested in than Coke's equivalent Powerade," Van Ommeeren said.
Hoervrt not all students on campus prefer Pepsi beverages.
"I think that having a deal with Coke provided a wider range of drinks," Michelle Lawrence, a junior Marketing Communication major and a member of the women's volleyball team said in a text message.
Lawrence said  the school only offering Pepsi beverages will not affect her in terms of what she drinks, even though she prefers Coca-Cola beverages over Pepsi.
"I think that the deal with Coke gave more options," Lawrence said. "Also, as an athlete, I don't care if it's Gatorade or Powerade."
Campus staff that are hosting university functions are told to only serve Pepsi products. 
The Director of Auxillaries at Cal Lutheran, Clinton Oie said in an email interview that he thinks a change to Pepsi products will be all-positive in terms of Cal Lutheran events.
"Given my understanding, Pepsi will be giving a lot more back to the university to support our students," Oie said.
The General Manager at Sodexo, Patricia Yantzer, said in an email that the response of the students have been all positive to the change to Pepsi products.
Karoline Johannessen
Staff Writer
Published September 16th, 2015