The Thousand Oaks Arts Festival, an event that was only supposed to take place once to celebrate the 40th anniversary of the city of Thousand Oaks, according to the Co-Chair of the Arts Festival Elaine Williams, is now an annual event in it's 12th year.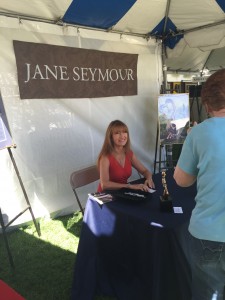 "There is a need for it and a want for it," Williams said.
Craig Morton, a member of the visual arts committee, which is responsible for coordinating visual art participation in the festival, has been involved with the festival since 2005.
"The Thousand Oaks Arts Festival has become one of the premier events of its kind in the region and we are continually striving to make it better," Morton said. "Our primary goal has always been to provide a high quality venue that showcases the talented performing and visual artists that enrich the fabric of our community."
Located on the front lawn of the Civic Arts Plaza the event took place on Sept. 19 and 20 from 11 a.m. – 5 p.m. According to Williams 8,000-10,000 people visit the arts festival yearly.
The festival is a celebration that brings local fine artists together residing in the Greater Conejo Valley or Ventura County areas. Artists must fill out an application form to be accepted, and then they are juried in. This year Williams said the festival featured 60 artists for a sold out show.
Each artist had an exhibition of their work that is featured for attendees to purchase. Rows of booths can be viewed spanning from the Civic Arts Plaza into The Lakes area. The festival featured oil paintings, photographs, jewelry, pottery, collages, glass and much more.
An Honorary Chair is appointed each year, and this year's chair was Emmy and Golden Globe award winner, Jane Seymour who is known for her role in the comedy 'Wedding Crashers" and television series "Dr. Quinn Medicine Woman."
"I'm very honored to be asked and I'm very happy to be here," Seymour said.
Seymour has considered herself an artist all her life, but she said it wasn't until a terrible divorce 24 years ago that she started taking painting very seriously.
"It was very healing for me," Seymour said.
Seymour's gallery can be found in Westlake. For the past 18 years she has created watercolors, oil paintings, pastels, sculptures and according to her website janeseymour.com she has "served as an inspiration for Open Hearts by Jane Seymour, a jewelry line for Kay Jewelers."
"I'm supporting everybody and really it's wonderful because I'm hopefully bringing some people here to the festival that wouldn't normally come, so that's my job," Seymour said. "There's a major arts culture in this area and I think it's fantastic it's all in one place at the same time."
Local photographer Roy Dunn had an exhibition for the first time.
"I'm impressed so far," Dunn said. "It's nice and local, I know there's lots of good artists here so I thought I'd take the plunge."
A photographer for 32 years, Dunn specializes in capturing hummingbirds in flight interacting with one another, a talent that he said many photographers are not able to do.
Ira Meyer, an award-winning photographer for his pictures of Antarctica was back at the festival for his 11th year. Meyer made the cover of the Turkish National Geographic magazine, and has won many awards at the festival. He said the look of appreciation and awe he sees on a customer's face continues to nourish his soul.
"I've been particularly lucky, I've been a guest photographer on ships in the Polar Regions," Meyer said. "I get to travel to an extraordinarily unique environment and bring a taste of it back."
Aside from the artist exhibits the Thousand Oaks Arts Festival provided an array of local entertainment on both days. Fleetwood Bac, a cover band from Agoura Hills Harmony Chorus, Conejo Players Children's Theatre and Retter's Academy of Dance were some of the performances that could be found on the main stage. A theatrical stage, which was set up from 12 – 3 p.m., included performances by the Kingsmen Shakespeare Company and Kids Acting Out West Summer Theater Camp. The Lakes area also had a stage, which included performances by the Conejo Valley Youth Orchestra and the Moorpark College Jazz Ensembles.
The annual festival continues to be a highlight for the Conejo Valley.
"The Arts Festival is one of the best examples in the region of local government, business, educators, non-profits and individuals effectively working together to orchestrate an extraordinary event that benefits all in the community," Morton said.
Daniela Abravaya
Features Editor
Published September 23rd, 2015