Hüicho! Featured in the Kwan Fong Gallery
A baby gazes upward in a peace-sign and heart covered onesie, a small brown-eyed brunette girl stares intently through the canvas, a wrinkled woman stands looking ahead in her white and patterned dress and a man with closed eyes reaches his open hands toward the sky.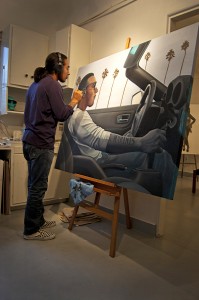 These paintings and many more can be seen at the Kwan Fong Gallery through Sept. 26 from the  work of California Lutheran University alumni Hüicho Lé.  However these images are more than just paint on a canvas to Lé.  According to him, hey are intensely personal.
Lé's paintings are filled with familiar faces of relatives including himself.
"My art is my family," Lé said. "Those paintings have helped me heal myself."
Before attending Cal Lutheran, Lé was a member of the Marines. As part of a helicopter readiness unit, he served two tours in the Middle East.
"At first you come back and you're not really sure what you're supposed to do even though you have these goals of what you want to do after the military. But life has a thing where the plans that you make don't really necessarily turn out the way that you want them to," Lé said. "But painting is something I have always had and liked and it just so happens by coincidence that when I enrolled at Cal Lutheran that's where I met who I met. It was a really good environment to let go, learn and explore and to heal."
One of the most significant people Lé met during his time at Cal Lutheran was art professor Michael Pearce, whom he still considers a mentor. As curator of the Kwan Fong Gallery, it was Pearce that invited Lé to display his work in this solo exhibit.
"I hope people see a success story when they walk by the art," Pearce said.  "I want them, especially the art-oriented students to look at the show and hear the story he has to tell about his life and how he came from nowhere to succeeding as an artist. It really shows that you can do it, you can make it. If you want to have a career as a successful painter, you can do it."
After graduating from Cal Lutheran with degrees in art and Spanish in 2012, Lé became the first artist-in-residence at Carnegie Art Museum in Camarillo. Museum director, Suzanne Bellah remembers how Lé grew from his experience at the gallery.
"The fact that the art was relevant to the current diversity of Oxnard was important," Bellah said. "I think being able to produce art in a formal studio setting and being reinforced day-to-day gave him the confidence to pursue important and relevant things within himself and the area."
Although Lé was raised in Oxnard, California, he has Mixtec heritage, with roots in Mexico's Oaxaca region.
"In one of the paintings I have my mom in it and I thank her because she came here illegally and crossed the border from another place where you know they don't even read English or Spanish. She had to go through all of these obstacles just trying to live and make some money so she could send it back home to her family," Lé said. "And in that course, I'm born and she has two American children and she has to fend for them. I just want to thank her."
Community is a special word for Lé, whether it means supporting Oxnard farmers who labor from sunrise until sunset or inspiring children to respect themselves and pursue their passions.
"You should be your hardest critic and try to impress yourself," Lé said "That took me a long time to learn. Even though as a kid I was doing those things like painting, nobody really said you can do something with that. It was just a coincidence that I was doing it.  Sometimes you just need someone to motivate you, someone to give you the ok to go ahead and do whatever it is that you are doing."
In his future paintings, Lé said he will focus on agricultural themes, a topic with an important message for him.
"People don't know that these Mexican laborers feed the entire world," Lé said. "It's my way of bringing some peace and respect because everyone's important."
As for the future, Lé said he hopes to continue painting and uplifting others.
"It's all about love. I spend hundreds of hours on certain paintings, sometimes years because it's wrong or I don't like it so I erase it or paint over it.  It has to satisfy my soul. I have to be one 100 percent content and happy with what I have created because it comes out of my hand and is connected to my body," Lé said. "This is my mind, my love and my life. It's everything. There's nothing else that I want to do in life other than paint."
Alexandra Randall
Staff Writer
Published September 23rd, 2015