Keeping up with the Jones
Cody Jones, a junior thrower for California Lutheran University's track and field team has made Team USA for the World Championships in Qatar.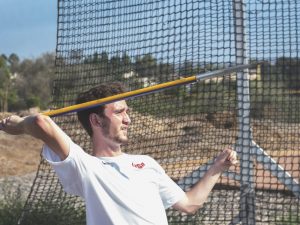 Jones, a Simi Valley native, is en route to pursuing his dream of making Team USA for the Paralympics in Rio de Janeiro in 2016. In October 2015 he will be competing in javelin in Doha, Qatar.
Doha is the capital of Qatar, and is located on the Arabian Peninsula. Jones makes the eighteen-hour flight on Oct. 13 and will be competing on Oct. 28. He is set to return to the states on Nov. 1.
For Jones, track and field has not always been his main event.
"I played baseball growing up, I never did track until I got into college, so this specific goal has been on my mind for a couple years," Jones said.
His "different ability," as he fondly refers to, is cerebral palsy. It has presented him with obstacles and victories as an athlete.
"I was born with cerebral palsy, diagnosed when I was 1 [year old]. It's the communication between my brain and muscles, my muscles don't develop as easily so I have to be careful with lifting weights because my right arm will get stronger than my left arm. I have limited function of my left side," Jones said. "I can use it a lot, I just can't pinch or turn my left hand over."
The Paralympics, the Olympics for people with impairment, presents Jones with opportunities one with a different ability may never had expected. In the Paralympics, there are several classifications that paralyzed athletes are categorized in to create fair and equal opportunities when competing in sport.
According to paralympic.org, "the Paralympics Movement offers sport opportunities for athletes with physical, visual and/or intellectual impairments that have at least one of 10 eligible impairments," including but not limited to, "impaired muscle power, impaired passive range of movement, limb deficiency, visual impairment and intellectual impairment."
Jones falls into the 30s sport classes, which "are allocated to athletes with athetosis, ataxia and/or hypertonia – often conditions associated with cerebral palsy or traumatic brain injury. The impairments typically affect the ability to control legs, trunk, arms and/or hand function. The lower the number is, the more significant the activity limitation," according to paralympic.org.
At the World Championships, Jones will be competing in class F-38, F standing for field event, and 38 denoting his ability to control muscular function with cerebral palsy.
"They are not diminishing the competition, it's still a high level of competition no matter where you're at," Jones said about the different competition levels.
Heading into the Qatar competition, Jones is notably ranked second in the world in javelin class F38. His coach, Justin Puccinelli, a Cal Lutheran graduate who is weeks away from achieving his masters in Coaching and Athletic Administration said that Jones is the American record holder for the discus, which he just showed up and did one day. Jones is also the North and South America record holder for the javelin in his F-38 division.
With astonishing titles to his name, Jones has not succeeded alone. Puccinelli and Cal Lutheran track and field coach, Matt Lea, have given Jones time and great support.
"The process [of learning javelin] was a lot longer than I would say it would take someone else to do because he had to learn to adapt to use some parts of his body that he's never really been able to use," Puccinelli said.
For Jones, cerebral palsy has proven to be an athletic challenge rather than a limitation.
Puccinelli began working with Jones when he first arrived at Cal Lutheran. An avid athlete himself, Puccinelli has been playing sports for as long as he can remember.
"I never had time off. I played every season and I went from one to the next," Puccinelli said.
After coming to Cal Lutheran to pursue football and track, Puccinelli found himself primarily on the track and being a natural leader on the field. There was no javelin and discus coach, so Puccinelli saw an opportunity and began delving into field-throwing sports.
No longer a collegiate athlete, Puccinelli could begin devoting much more time and energy to his athletes.
Puccinelli said he has always been a leader, and his leadership skills have paid off in his mentorship of Jones.
According to Puccinelli, Jones is competing in his third season of throwing, and he has a good chance of being an all conference selection for the Kingsmen. Alongside Jones' victories, Puccinelli works with senior Allie Hadley.
Jones and Hadley are teammates who both throw javelin and have set records at Cal Lutheran.
Hadley, an exercise science major with an emphasis in human performance, is a three-time all American, three-time SCIAC champ, and SCIAC record holder in the javelin.
"Cody has grown into being one of the most inspirational people in my life to date. He is constantly looking at life with a positive outlook, a selfless attitude and a smile on his face," Hadley said. "Cody motivates and encourages me to not only push my javelin abilities, but to push my abilities in life."
Hadley has no doubt that Jones will succeed wherever he may go, and with the titles under her belt, it seems that Hadley is paving a path to victory as well.
Puccinelli sees to it that his coaching is always improving. He said that if Jones is good, he wants to make him better. Though Puccinelli has completed his time as a collegiate athlete, he never fails to continually improve his performance.
"If I'm not working hard to make them better, then I'm wasting both of our times. And if he's outworking me, then there's something I need to do. He definitely motivates me to work hard and he's been given this great opportunity, and I don't want his success or failures to be based on 'I didn't do enough,'" Puccinelli said.
Puccinelli's work ethic is one not found often, but could not have benefitted him or Jones any less. With the world championships right around the corner, Puccinelli and Jones are using this year's track season as prime training time to make the Paralympic team for Team USA.
Puccinelli is also working with Hadley to accomplish goals well within reach, she hopes she will be  showing her face at the Olympic Trials.
Cerebral palsy has given Jones, Puccinelli and Lea opportunities to learn and grow.
"Coach Lea accepted me right away, not even knowing if I'd be able to compete at the DIII level," Jones said.
Puccinelli has also grown as a coach learning how to modify workouts and practice techniques.
For Jones, cerebral palsy carries him to new opportunities off the field as well, including public speaking about different abilities in elementary schools and on the Cal Lutheran campus.
"I love being able to speak about [cerebral palsy]. A lot of people think their quality of living is less, and that's not always necessarily the truth, so I'm here to say 'hey we're here, we're awesome, we can still compete at the level that people with able bodies can compete at.' It's opening up doors of public speaking and I kind of like public speaking," Jones said.
Anyone who knows Jones and his work ethic can attest to his positive attitude and perseverance.
"Despite everything he's accomplished, he's humble, he makes everyone else work harder around him, he brings everyone up," Puccinelli said.
Not much else needs to be noted as it is quite evident Jones is driven by determination and passion. The lives Jones touches on his path to success are bettered because of him.
Laurel Skinner
Staff Writer
Published September 30th, 2015