On Sept. 26 the No. 7-ranked Regals volleyball team picked up its fourth win in a row against No. 9 Claremont-Mudd-Scripps.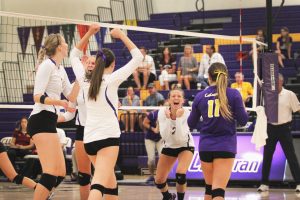 The match up only went to three games with California Lutheran University sweeping CMS to advance in the Southern California Intercollegiate Athletic Conference with a 2-0 record.
High spirits filled the Regals bench for the entire competition. During a timeout during the second game, the team even participated in a group dance to "The Cupid Shuffle."
That happy and confident attitude seemed to influence their play as they exhausted CMS.
With CMS loosing to La Verne University earlier this season, the Regals knew how important this game was to CMS and forced them to crack under the pressure.
Head coach Kellee Roesel had a clear understanding on what the Athenas' intentions were as they walked into Gilbert Arena on the campus of Cal Lutheran.
"We knew they had a lot of confidence coming in and they had their backs against the wall and it was going to be really dangerous ,so I'm really proud of my kids that they stuck to the game plan and pulled off exactly what we were trying to do and have a clean match," Roesel said.
Cal Lutheran had a clear lead and position for the entire competition. The first game was closely contested with a final score of 25-22, however the Regals were able to dominate the next two sets 25-14 and 25-15.
Though the Regals were successful Saturday night, athletically, both teams match up very well together,so this was a highly anticipated match between the SCIAC rivals.
"They stack up against us really well. They have some really athletic kids. Their team is very similar to ours. They have high academic, hard working kids that love it. They are super athletic but we felt like if we played our game then that would be the result," Roesel said.
Junior outside hitter  Michelle Lawrence was excited over her team's victory against CMS Saturday night, with the last point of the game being her kill on the right side of the court.
"It feels great [to win], especially against such a great team like CMS. It was a tough game and we just came out and gave it our all and it showed. I think we're just going up from here. I don't think there's any question about it," said Lawrence.
With the team already so successful early in their season, the Regals are very humble in how they prepare for each game, focusing on their own strengths and weaknesses to step out on the court ready for any opponents.
"I think we were successful because we go into practice and we give it our all every single day. We don't know what happens in their gym, we just know what happens in our gym and we use it," Lawrence said.
With the Regals volleyball program being such an intense and successful program, freshman outside hitter Amanda Roberts is learning what it takes to be successful on this team full of talented athletes.
The freshman started the crucial match for the Regals and contributed with six kills and six digs.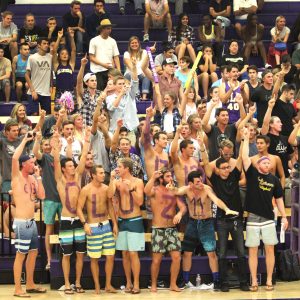 "[Playing at Cal Lutheran] was intimidating at first because it's such a high level of play and everyone expects so much from each other, but it made me want to perform at my best every time I step out on the court. I just want to put everything I have into the game when I can get out there and play for this team," Roberts said. 
Roesel said she likes to find young players who are ready to compete at the same level as the rest of her team and that goes into her recruiting process.
"We don't ever want to have to rebuild. We want to reload and get after it. I think it's huge on a returner-laden team [that] we are starting a freshman on the outside. That's a huge position. I'm very proud of her," Roesel said.
Both Lawrence and Roberts agree that their ultimate goal for the season is to win and show all the teams out there that they are the team to beat.
Roesel is keeping her goals for the season simple for her team of student-athletes.
"My goal is to improve every day and work as hard as they can every single day. That's all you're going to get from me," Roesel said.
The Regals' next match is against Chapman University at home on Oct. 2 at 7:30 p.m. in Gilbert Arena.
Heather Tomaszewski
Staff Writer
Published September 30th, 2015