The fourth down quarterback
September 30, 2015|6 Views
When a punter steps onto  the football field, it's not typically good news.  Punters are a symbol of the offense's failure to convert on downs and put points on the scoreboard.  Punters are ultimately used for damage control.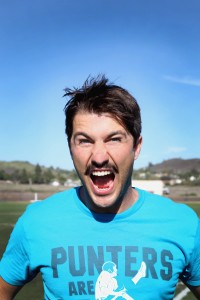 California Lutheran University's senior punter Jack McFarland understands the animosity players of his position receive.  Standing at six feet tall, the Northern California-native wears a blue T-shirt with NFL analyst Rich Eisen's famous catch phrase, "Punters are people too!" 
"Punters don't win games.  Kickers can win games but not punters," McFarland said.  "So no one wants a punter, but every team needs one."
Think of a good rock band.  Everyone knows the guitarist, vocalist and the drummer, but the bassist normally goes unnoticed.  The bass is the backbone to most styles of music, so without the bass player the concept of the band's sound would be lost.
Punters are similar to bassists.  They both tend to be overshadowed and undervalued, but just as every rock band needs a bass player to keep the rhythm, every football team needs a punter to maintain the game.
McFarland does more than manage the game on the field.  On the sidelines he has the reputation as being the team jokester always keeping the guys in good spirits.  Cal Lutheran senior tight end David Lederer describes McFarland as outgoing and a "complete goofball who loves puns."     
"Everyone who has played football knows that special teams players are the weirdest people on the team and Jack  definitely lives up to that standard," Lederer said.  "If things are going poorly in the game, Jack is there to joke around and tell his stupid jokes and puns.  He always knows how to make everyone laugh and is one of the nicest people you could meet."
McFarland and Lederer are two of the seven four-year seniors on the Kingsmen football team, and McFarland highly values the relationships he has created on the football field over the years.
"I was an only child, so being around sixty other people and forming a bond with them is incredible," McFarland said.  "I lean on my teammates for everything and loyalty to them is very important to me."
Throughout the history of football, punters aren't recognized for their work on the field.  Coaches dismiss them.  Fans don't buy their jersey. After a punt, teammates don't rush to congratulate them. But in actuality the punter is in control of the field position and commands the positioning on the field as much as quarterbacks do.       
Cal Lutheran's football players trust in their punter's ability.  They know if they need the ball within the 20-yard line, McFarland can do it. 
"Jack is very involved in our team on a lot of levels.  He is a leader, which may sound odd for the punter, but he puts himself out there and takes on the challenges of being a team leader," Head coach Ben McEnroe said in an email interview.  "Jack is our [Student-Athlete Advisory Committee] rep, so he represents both CLU Football and the Athletic Department in a variety of service projects and campus activities."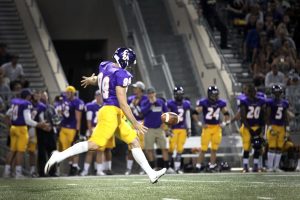 Punters are notoriously known for skipping out on practices and team workouts because they don't necessarily need the same training as the other players.  A punter's training is mostly done individually and on their own time.  Yet again McFarland is not the norm and sees the true value in practicing and training with teammates.          
"It's a huge respect thing. [Punters] are not really a big part of the team's practices or their training so no one really knows the guy," McFarland said.  I don't want to be like that.  I want to be a part of the team and be respected by my teammates."
According to McEnroe, McFarland has 28 career punts inside the opponent's 20-yard line, including six already this season.  He has averaged over 39 yards per punt in the previous two seasons.  In 2014 McFarland was selected as a First Team All-SCIAC punter and he was a Second Team All-SCIAC selection in 2013.   
"My biggest accomplishments are my team's accomplishments.  When I have to perform, I need to perform well in order for the team to have a chance to recover," McFarland said.  "I am here for the ride and I am here to win."     
The Kingsmen are currently 2-0 this season.  Their next game is at home on Oct.  3 at 7:00 p.m. against Whittier. McFarland will take the field on fourth down looking to pin the Poets inside their 20-ya
Tate Rutland
Staff Writer
Published September 30th, 2015