Awaken the dance in your soul
Sounds of African drumming could be heard from the dance studio inside the Gilbert Sports and Fitness Center on Oct. 3 as California Lutheran University held its first sacred dance workshop.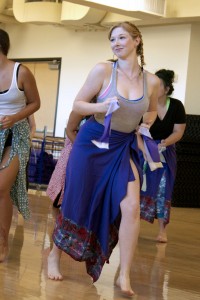 Senior adjunct professor of the Theatre Arts Department, Barbara Wegher-Thompson, put the event together with the help of an Experiential Learning Grant. The Alleluia Dance Theatre, based in Thousand Oaks, came and taught the two sessions on sacred dance.
"I asked specifically to have Alleluia come because they include other forms [of sacred dance] such as the African dance," Wegher-Thompson said.
Emmalyn Moreno, who has choreographed for Alleluia for more than seven years, taught the first section of the sacred dance workshop in the morning. She began the session by having the dancers play a hand drum to practice the rhythm so they could better understand the cues in the African dance they were learning.
Moreno taught the dancers a mixture of Hawaiian, Tahitian, Jazz, Ballet and Samoan styles of dance.
Moreno said the best part of sacred dance she said is  the whole process. Moreno composes the music, choreopgraphs it and she is also the lyricist.
Moreno, who has had a number of surgeries throughout the years, told the dancers to do everything they can while they're young, and to dance while they can.
"Alleluia's goal is to spread the word of God through movement and give people tools to pray in different ways," Moreno said.
Stella Shizuka Matsuda founded Alleluia over 40 years ago after a student of hers from Moorpark Community College had come back from a prayer and dance workshop and asked her if she wanted to start a sacred dance company.
"I thought what better way to express ones faith than in dance, which I love, and to find another medium for your expression rather than just talk," Matsuda said. "It's been exciting to share through dance what I believe and what God has done for me."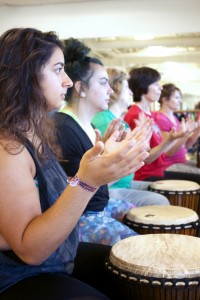 Matsuda, who is a Cal Lutheran alumna, taught the second half of the workshop in the afternoon. She choreographed a piece that can be seen during chapel service on Oct. 22.
"This year students are getting a live exposure to three different styles, as opposed to last year where it was only an exposure to the one, so I'm trying to develop this more and more to increase the breadth of what they experience," Wegher- Thompson said.
"I enjoyed that it was a different experience really, and honestly it gave us a different opportunity for dance that you wouldn't normally have," Heather Wilson-Hooker said, a workshop participant  and one of Wegher-Thompson's students.
Wilson-Hooker, a freshman, has been dancing for 14 years but has not experienced sacred dance until now.
"At the beginning of this session there was a scripture given to us and that's what this dance is meant to represent, whereas other dances that involve modern or lyrical, are based on the music or story that you're giving so its just got a different attachment to the movement," Wilson-Hooker said.
Both Wegher-Thompson and Matsuda hope to be able to have another sacred dance celebration workshop next fall. Wegher-Thompson she said she is hoping to watch it grow, and to broaden each student's idea of what dance is.
Sarah Hernandez
Staff Writer
Published October 7th, 2015