According to amnesty.org, there are currently more than four million refugees from Syria and 95 percent of the refugees are being hosted throughout Turkey, Lebanon, Jordan, Iraq and Egypt.
The California Lutheran University Community Service Center held a program on Oct. 7 tying fleece blankets for the Lutheran World Relief non-profit organization, who will be collecting items all around Ventura County for the Syrian refugees.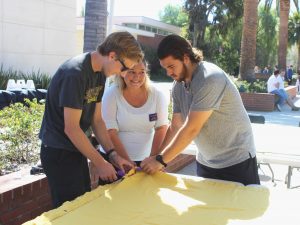 Global Justice intern Jessamine Gilman-Vorm and Campus & Community Partnerships Intern Christine Trunick are hoping to make a big impact on campus and around the world. The dynamic-duo put this event together and are both extremely passionate about the cause.
"For the students that did stop and participate, we saw an amazing generation of teamwork and leadership taking place," Gilman-Vorm said.
In an email interview, the coordinator for Community Service at Cal Lutheran, Nicole Cozzi said the purpose of the event is to provide a way to give back for busy students.
"Six Minutes of Service is a program series coordinated for the Community Service Center where we provide quick passerby activities for the campus community to give back to the larger community," Cozzi said.
Trunick said she was excited to see students who were willing to stop and involve themselves on their way to class to learn more about the Syrian refugee crisis.
"Every day we witness the Syrian Refugee situation on the news and compassion toward others is the key value we all hold," Cozzi said.
"Everyone had a great attitude about it. Some people don't really know what's going which is so easy being [that they're] on the other side of the world," Trunick said.
The conflict in Syria has killed around 220,000 people and has left more than 50 percent of Syria's population displaced, according to amnesty.org.
"They are in need of these blankets whether it's a table top for kids to do their school work or a soft place for them to lay their head at night," Gilman-Vorm said.
Being that the Cal Lutheran community is fortunate to live in a safe community like Thousand Oaks, it can be difficult for students and faculty to comprehend the amount of pain, suffering and disparity people around the world are currently facing.
"Cal Lutheran has a really special population, and fortunately they tend to be more educated and aware but for the amount of students that aren't, it's not because they don't care, it's because they are busy," Gilman-Vorm said.
"Ordinary acts can result in extraordinary change. While making a few blankets may not stop the situation in its entirety, we can create a positive moment for another," Cozzi said.
It may have been considered a very small task to tie a few knots of a fleece blanket, but what people may not have realized is that they were coming together to build our community in order to help rebuild our global community.
"We really want to instill those leadership skills into students," Gilman-Vorm said.
The Community Service Center has a new website called "Give Pulse" that allows students another resource to access upcoming events to volunteer at on and off campus.
"I think it's really important for the Cal Lutheran student body to understand that a part of living is giving back because until you understand what it is like to live without, then you really don't understand what it is like to live at all," Gilman-Vorm said.
"It is so nice being on a campus that really values community service," Trunick said.
Katy Lindor
Staff Writer
Published October 14th, 2015