Some productions at the Thousand Oaks Civic Arts Plaza come and go, but the Cabrillo Music Theatre is not only here to stay, it's a thriving member of the community. The Cabrillo Music Theatre is the award-winning resident musical theatre company of the Civic Arts Plaza and is known as "Broadway in your backyard."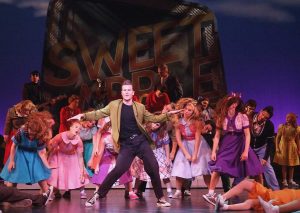 Their latest play, "Damn Yankees," runs from Oct. 16-25. It's a musical comedy about a baseball fan who makes a pact with the Devil in order to help his team win against those "Damn Yankees."
Lewis Wilkenfeld, the artistic director of the Cabrillo Music Theatre, said people shouldn't be afraid to see the play if they are not into musicals. This play appeals to everyone and is actually a crowd favorite.
"It's one of those plays that has a universal appeal. Many people who don't like musicals love 'Damn Yankees' because it also mixes in comedy and sports," Wilkenfeld said.
This play in particular has been requested by audiences since it last appeared at the theatre in 1996. Wilkenfeld said audiences would walk down the lobby and see all the shows available, but a majority would always ask when "Damn Yankees" would return.
"There's a reason why some shows vanish, and some classic shows are evergreens. This one is an evergreen," Wilkenfeld said.
Wilkenfeld said the production has an array of young talent and seasoned actors and said he's excited for the enthusiasm and spirit they will bring.
"Cast of 30 and a full live orchestra, it's going to blow people away," Wilkenfeld said.
Dani Kluss, a California Lutheran University sophomore majoring in communication and minoring in theatre arts, has worked with the Cabrillo Music Theatre on five shows including "Damn Yankees." Kluss is on stage crew and said the show is going to be amazing.
"I know that audiences can absolutely expect it to be an amazing and high quality show," Kluss said in an email interview.
Kluss said students should take advantage of the theatre's student discount. Tickets are priced as any professional show and are expensive.
"You should really take advantage of as many student discounts as you can while you're in school, since you won't be able to use them forever. Students should take advantage and experience professional theatre for low prices," Kluss said.
Wilkenfeld said Cal Lutheran students will enjoy the production because it has content that everyone can relate to.
"I feel like college students really like this show because it exemplifies the passion of youth and going after your dreams," Wilkenfeld said.
Kluss said the theatre is not only entertaining, it has given her amazing personal opportunities.
She said her favorite memory of working with Cabrillo Music Theatre was working on the show "Mary Poppins." Not only was working on the production a great learning experience, she was able to meet Richard Sherman, one of the original music writers for the Disney film "Mary Poppins."
"It was really amazing to be able to meet the man who wrote the soundtrack to my childhood, shake his hand and [have him] tell me that I did a good job on his show. He liked it so much that he saw it twice," Kluss said.
The Cabrillo Music Theatre produces high quality plays and performances for all ages to enjoy, however they are also known for their outreach programs.
Maureen Feldman, the Director of Development and Community Engagement for the Cabrillo Music Theatre, said they have an unstoppable mission to keep their arts alive.
"What a lot of people don't know is we are a registered 501 C3 nonprofit. We've been doing outreach programs for almost three decades," Feldman said.
The Cabrillo Music Theatre has a variety of programs that give people an opportunity to view arts when they normally wouldn't be able to. They work with the military every year to put on a USO-style variety show in Port Hueneme and any active military persons can watch for free.
Cabrillo also makes sure that low-income kids have the opportunity to see shows for free by partnering with Boys & Girls Club. They also have a program called Senior Palooza, where Cabrillo brings the shows to senior citizens that cannot get out. Lastly, Cabrillo works with animal shelters and, once a year, they invite all the local shelters to come set up outside the Civic Arts Plaza in order to find homes for the animals.
"We believe that viewing art is transformative. We don't want cost to be the reason that people don't get to experience it. So making arts accessible to everyone has always been a part of our mission," Feldman said.
Feldman is proud of the work she does. She said she took this position not only because she loves theatre and entertainment, but because it's a passion project.
"A lot of other companies will come and go, but none of them have the tract record for producing high quality shows and giving back to the community the way Cabrillo does," Feldman said.
Mary Callaway
Senior Writer
Published October 14th, 2015