Gambling the night away at Monte Carlo
On Oct. 9, students at California Lutheran University had the opportunity to dance the night away at the annual Monte Carlo Night at Los Robles Greens Golf Course in Thousand Oaks, California.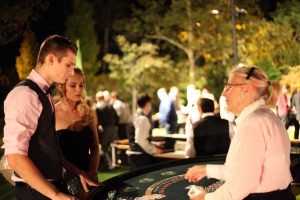 "A lot of people refer to Monte Carlo Night as a dance, but it is definitely more than a dance," Shelby Pleiss said, the committee chair of Associated Students of California Lutheran University Government Programs Board. "We have the casino tables so you get funny-money, and you can go and play blackjack, craps, poker or the roulette table."
Pleiss said ASCLUG's Programs Board Committee didn't want to stress the theme this year because the event was held in a beautiful garden. They chose a French theme for this year's Monte Carlo Night, giving the students attending a chance to dress to impress.
ASCLUG's Programs Board has spent a lot of time planning the event, trying to make it better from last year's Monte Carlo Night.
"We started in July and my committee came together at the end of August and we started fine-tuning stuff like getting in contracts for the casino tables and DJ's," Pleiss said. "The last month has been all the small details like the decorations, the raffle prices and making sure everything is good with Los Robles."
Students could volunteer with the preparations for Monte Carlo Night, so the event could be as much fun as possible for everyone attending and everyone involved.
"I'm in the support committee, so I have been involved with helping and putting things together today. We decorated all the tables," freshman O'Shea Willis said. "I got two hours of free time, so I have been dancing with all of my friends, and the photo booth was definitely a great touch. It was a really good turnout."
The ASCLUG's Programs Board has made several changes from last year's Monte Carlo Night.
"This year we are using a professional DJ, which is something we didn't do last year. Last year we used students," Pleiss said. "We are also using the same DJ Company as we used at Spring Formal, and this year we have two professional photo booths."
The photo booths were busy with traffic all night and seemed to be a huge success amongst the students.
In addition, the venue this year has never been used before and students were pleasantly surprised.
"This one's much better. There's a lot more room," sophomore Angela Cuzic said. "Last year was so crowded it was difficult to walk around."
A lot of people showed up this year, and it was more people than the ASCLUG's Programs Board expected prior to the event.
Pleiss said prior to the event, the expected attendance this year was at least 500 people.
At the end of the event, the committee said they ran out of funny-money to give out when students arrived, and had to give out casino chips instead.
"There is a lot more people here than I expected," freshman Hope Ramos said. "I didn't know what to expect, but it's pretty fun so far. I'm real excited, and I look forward to dancing and trying out poker."
After cashing in their chips, students could get raffle tickets and try to win prizes. The raffle prizes this year were a Fitbit, a gas card, Disneyland tickets, a north face bag and the most prestigious prize of all, a trip to Las Vegas.
After some rounds of poker and blackjack, the dance floor was packed with students that seemed to have a great time and danced the night away.
This year's Monte Carlo Night seemed to be a huge success amongst the students. Monte Carlo Night was the first event to start off the many festivities that will occurred over homecoming weekend.
Karoline Johannessen
Staff Writer
Published October 14th, 2015