Once upon a time, the live music industry thrived in American culture. It roared in the 1920s during the Jazz Age, then it rose again in the '50s with Elvis Presley, Johnny Cash and Chuck Berry tearing up the stage with their blues and country driven tunes.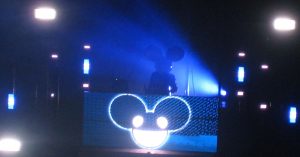 Live music started to climb in the 1960s and '70s as rock music engulfed stages across the world with bands like The Rolling Stones, Led Zeppelin, Van Halen and AC/DC. It continued to rise throughout the '80s and '90s bringing in a new wave of punk artists, hair metal bands as well as grunge, pop and hip-hop music.
Sadly in today's society, live music is beginning to decline as technology rapidly advances. The Internet and other technological innovations are the cause for the dwindling live music industry.
"I think the internet is the most dangerous thing invented since the atomic bomb. It's destroyed the music business," said rock musician, John Mellencamp in an interview on reuters.com.
Today's artists are able to sit behind a computer and distribute their music through music sharing platforms like SoundCloud and ReverbNation and through streaming services like Spotify and Pandora. Now musicians don't necessarily have to start out by touring in a beat-up van and performing every
night across state lines in order to get their music out.
It's possible to become an overnight sensation without ever leaving your bedroom. All you need is a computer and an internet connection to spread your music across the globe.
"Because of things like iTunes and streaming and social networking, it's destroyed music. It's destroyed the motivation to go out there and to perform and to really make the best record possible. It's a shame," guitarist of heavy metal band, Metallica, Kirk Hammett said in an interview with Ultimate Classic Rock Magazine.
Consumers aren't really paying musicians anymore either. Musicians put hundreds and thousands of hours into perfecting their craft, but listeners today utilize the streaming services available or resort to file sharing and download their music for free.
Before the World Wide Web, people purchased actual, physical copies of musicians' albums – the entire album in most cases. They couldn't download the one song they liked on that particular album unless it happened to be released as a single. That meant they listened to the record as a whole, and that is the most beautiful part of it all. People listened to the musician's entire vision of their record production.
"My sense is that file sharing started in predominantly white, middle- and upper-middle class young people who were native-born, who felt they were entitled to have something for free, because that's what they were used to. You'll never understand unless you're the one that wrote the song, and you were the one that had the band, whose music people took without paying you for," KISS bassist, Gene Simmons
said in Esquire.
Along the lines of being entitled to something that does not necessarily belong to you, today's electronic dance music should not be considered live music. Pressing the play button on a pre-mixed track does not
count as "live music." And if Paris Hilton is considered a DJ in the EDM world, I'm fairly certain it doesn't require much brainpower.
Even one of the most recognizable names in EDM, Deadmau5 admitted, "Being a [EDM] DJ is easy. All the knob turning that goes on at a 'live' EDM show is a sham. They are just pressing play."
My issue with today's EDM is that it all sounds the same. DJs seem to use the same type of formula when they're creating new tracks. It's hard to blame them I guess, considering these DJs are making more money than most artists today. But creating great, original music should not all be about the money or the commercial appeal.
"Music used to be about expression. It was about the lyrics or the melody of a song that could really move people. EDM is more about patterns that hypnotize and mesmerize people," said John Bohlinger, a columnist for Premier Guitar Magazine, guitarist, and former music director of the CMT Music Awards.
"EDM puts its listeners in a trance, and it's not so much about thinking or feeling anything now. Bottom line, the appeal to this type of 'music' is simply on a primitive level."
The most crucial element missing from a variety of modern day music, not just EDM, is the lack of soul. Music and live music shows should make you feel something. It should hit you on a mental, emotional and a spiritual level, because live music is a true and pure form of art – something that is lost in today's digital era.
Tate Rutland
Staff Writer
Published October 14th 2015