One swipe fits all room keys for dorms
October 21, 2015|28 Views
Students balance schoolwork, suitemates, life at home and often applying for jobs. With so much on their plate, wouldn't it be nice if one thing were made simple?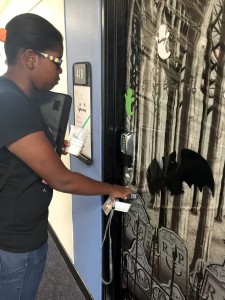 California Lutheran Uni-versity Residence Life and Facilities present an ID card that doubles for swiping into a residence hall as well as into student suites.
"We have wanted to go to card access in resident's halls for many years," said, Associate Vice President of Facilities, Ryan Van Ommeren. "We have roughly 1,400 residents on campus and having a traditional key is a system that is challenging. Keys get lost. Keys get broken."
Using an ID card for both residence hall and room access is different than a true one card system.
"A true one card would be building and room access, laundry, meal plan and even local vendors in the area that you could use your student ID at," Nathan Fall, Associate Director of Housing Operations, said in an email interview.
So far two residence halls have integrated the new one-swipe system, including Mt. Clef and Conejo. Students are still being given physical keys at check-in, but hopefully that will not continue in the future, according to Director of Residence Life and Student Conduct Chris Paul.
At the start of a new school year, the process becomes simplified when Facilities and Residence Life need to only program ID cards rather than pass out keys.
"We plug residents into the system and they are able to get into their room without a key," Paul said.
The one swipe system is similar to the way hotels use key cards, though the Cal Lutheran software is a tad more complex.
"In a hotel there is no electronic connection between the lock and the front desk. When [the card is] inserted then it programs," Van Ommeren said.
The software that has the lock set talking to the software system directly being used is fairly new, according to Van Ommeren. Hotel software is more like a one-way dialogue and the software being used on campus is a two-way dialogue.
"In a university card access system we would like to have more, so we can record who comes and goes in a room with a swipe. We would like the capability that if one person loses an ID then everybody doesn't have to get reprogrammed," Van Ommeren said.
"Residence Life sees benefits in the future.
"For emergencies like a fire or an earthquake, [resident assistants] just swipe in. It would be really helpful," Paul said.
Taking safety measures would also be simplified. For example, if a student lost their ID and someone not living in their suite got a hold of the card.
"We could remotely lock a door, we would be remotely deactivating their cards," Van Ommeren said.
Alongside the perk of not having to carry a key, residents may benefit with the one-swipe system because it is less costly for a student to replace an ID card than to replace a key.
"As soon as somebody loses their card, we can go into the system and deactivate it and reactivate a new one. We don't have the long process of having keys replaced, having facilities come out, re-core, etc.," Paul said.
Having a one card system is definitely in the interest of the student, according to Campus Safety Magazine. One card systems are typically found on mid-size to larger four-year campuses and students enjoy the convenience according to Campus Safety Magazine.
Laurel Skinner
Staff Writer
Published October 21st, 2015