There's a stereotype surrounding senior citizens that their lives tend to  slow down. However, dance and fitness instructor Stacy Gross is helping her students at Artria Senior Living stay young physically and in spirit through Zumba.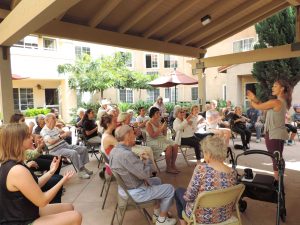 Gross has been teaching Zumba Gold, a low-impact sometimes sitting version of the dance, to seniors for almost three years. Gross has also been teaching Zumba at California Lutheran University for five years.
Gross saw an opportunity to bring the two generations together and worked with Artria to organize a meet-n-greet called "Bridging the Gap." This get-together pairs Cal Lutheran students with a senior to dance and socialize with.
Gross said the idea began when she would tell her Cal Lutheran students about working with seniors and their fun stories. Her college students were always surprised by how active and open the seniors were.
"I've had such a great experience teaching seniors, but after speaking to my college students I realized there are a lot of stereotypes surrounding seniors. Some of my senior students have Parkinson's, dementia, some are in wheelchairs, but still they come with such a positive attitude and do what they can," Gross said.
Gross contacted the Senior Engage Life Director at Artria Las Posas Colleen McCutchan when she came up with the idea, and McCutchan was on-board. They decided to create an event where half the time would focus on ice-breaker questions, and the other half on dancing.
"I was a physical education teacher for 32 years, so Stacy and me are like soul mates when it comes to this. Exercise is incredibly important at all ages," McCutchan said.
McCutchan said events that bring together generations like this are an incredible experience for everyone.
"I think it's important for young people to know that just because you're older doesn't mean you stop having fun, but it's also good for the seniors to have a relationship with younger people," McCutchan said.
The first event took place at Artria on Oct. 17 and Gross thought it was a total success.
"I think the event went amazingly. The turnout was amazing and I wanted to cry because I was so happy. I really wanted it to be a great environment and have the generations learn from each other and it exceeded my expectations," Gross said.
McCutchan said he also thought it was a success.
"I was blown away. I got goose bumps when I turned around and saw everyone having such a great time," McCutchan said.
The participants also felt like it was not only fun, but that they learned something.
Students in Gross's Cal Lutheran Zumba class were in attendance and didn't know what to expect going in, but enjoyed the experience.
One of those students, Sydney Brandes, said you don't have to have dance experience and that students should go in with an open mind.
"If you think you can't dance its OK because that's not the point. You get to meet these people that live here and have a great time with them. I know I did," Brandes said.
Another Cal Lutheran student Emily Gillmore, said she thought it was a great experience.
"My favorite part was meeting the senior I was paired with. We were inspired by each other. Then we had fun dancing together too," Gillmore said.
However, it wasn't just Cal Lutheran students that had fun, the seniors were grateful that students came.
Maggie Nuttall is 93-year-old and a resident at Artria who enjoyed the event.
"I love Stacy, the program and the way it was presented. I thought it was just super," Nuttall said.
She said she believes that a positive attitude can make a big difference in a senior's life.
"It's important to not separate yourself from young people. Embrace them and what they enjoy, it opens you up to the world," Nuttall said.
Nuttall said that not only does being around college students teach her new things, but she is also reminded of when she was that age.
"We were there once, so you get some of those old good feelings. I love young people and it's exciting when they come," Nuttall said.
Another senior resident at Artria, Joan Niebank, said she loves Zumba and it's the highlight of her week.
"I love everything about it. Students should know that whatever time they spend here will be packed with fun," Niebank said.
She thought the event was a success and is excited for the next one.
"It was lovely being with the students. It was fun comparing my childhood with what this generation is doing now. I love their ambitions and attitude especially," Niebank said.
The next "Bridging the Gap" event will take place on Halloween morning at Artria. Gross said she hopes that the turnout allows for it to be a monthly program.
Cal Lutheran senior and President of the Dance Multicultural Club Genesis Rodriguez said she will be at the Halloween event and encourages others to come.
"I would love to see more students get involved in these types of activities. It's an opportunity to do something you've never done before. The bigger the turn out, the more fun it is," Rodriguez said.
For more information on the Halloween event contact Stacy Gross.
Mary Callaway
Senior Writer
Published October 21st, 2015