Artists gather for UFO Halloween
Cookie decorating and contests and riddles,  oh my! These were merely a few of the several activities that art majors and minors participated in during the second annual UFO Halloween party on Oct. 30.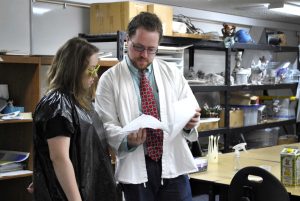 The UFO in the event name means unfinished art projects, which several students are able to complete during open studio sessions as well as at the party itself.
Organized by art departmental assistants, juniors Livia Bowman and Brianna Mercier, the party took place in F-1 where California Lutheran University students socialized with the art department.
Although the party is open to everyone, Bowman said that the event's activities were planned to help familiarize people with the art community because there are not many opportunities for them to get together.
"We have art buildings all around campus, but a lot of people don't know where this one is specifically.  It's showing everyone where all the classrooms are and the DA office," Bowman said. It's helping them become more familiar with the art department."
Beginning at 1 p.m., the festivities of the social event began as students and faculty greeted and mingled with one another wearing costumes as their favorite artists or art style. The costumes ranged from Salvador Dali, Banksy and even characters from the film "Moonrise Kingdom."
"I think there are different directions [art] can go because here we have traditional print making, ceramics, watercolor, painting and drawing," Bowman said. "They also have a design emphasis and you can get more into set design. They're all creative so I think there's a lot of self-discovery in it."
At 2:30 p.m. a scavenger hunt commenced around the F building where students and faculty were led with mini Hershey's Kisses. Mercier said the purpose of this was so that students learned where the art classrooms were as well as where the DA office is.
"The F building is kind of hard to navigate yourself around. To get in the sculpture building, you have to go around the back and into the courtyard to get to the actual room," Mercier said. "We wanted a nice and fun activity to help the students figure out where everything is."
During the hunt, Bowman told riddles to the participants in the DA office, known as the "Witch's Den," while Mercier was the host of tours. The riddles were a combination of non-art and art related puzzles that students tried to figure out as they wandered within F-1.
"[Art is] liberal with what classes you can take. There are a lot of art classes here that are not required for the art major. I think that's really cool because you can experiment here and I feel like that opportunity isn't as free in a lot of the other majors," Mercier said.
Cal Lutheran alumni Harold Muliadi, dressed up as protagonist Alex DeLarge from the film "A Clockwork Orange." On Nov. 14, the Kwan Fong Gallery will feature Muliadi's oil paintings in a gallery called "What if: Life in a Handful or Less."
Muliadi said that art is different from other majors because there's no right way to do something.
"Some painters, for example, embrace the spontaneous and accidental. That's actually what they look for whereas others have a very clear thing that they want to put on the canvas or panel," Muliadi said.
As the party winded down, the costume contest took place where students with the best costumes were entered in a competition to win one $50 Aaron Brothers gift card each. The winners were senior art major Yasmine Abdallat and sophomore English major Jessica Rinehart.
"I think that [partiers] will have a nice time and I think that they will be immeasurably enriched in various ways that cannot be described," Muliadi said.
Leina Rayshouny
Staff Writer
Published November 4th, 2015