Campus clubs unite Syrian relief campaign
Between Nov. 1-12 there is a series of events happening on campus to raise awareness about the Syrian refugee crisis. This culmination of events will all lead up to the finale, the United Relief Food Truck Event in Kingsmen Park on Nov. 12.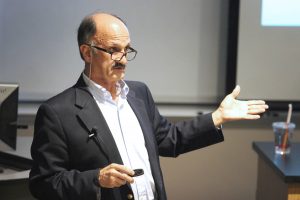 This United Relief Campaign is a student-run collaboration between many California Lutheran University clubs and organizations.
"A lot of different clubs and organizations have come together," Rebecca Gold, junior and president for Cal Lutheran's Hillel club, said. "Hillel, the Jewish life on campus club, Interfaith Allies, Campus Ministries, Lord of Life, Center for Equality and Justice and the Community Service Center, we've all come together to support the Syrian refugee crisis."
Hillel Executive Director Rabbi Belle Michael took notice of Professor Rose Aslan posting stories about Syrian refugees and information about how to help refugees on Facebook. From there she took the first initiative to start the United Relief Campaign.
"When I read it, I just knew that was the right thing for us to do," Michael said. "Coming from my Jewish tradition, that's part of our core – to love your neighbor as ourselves and when we see people who are in trouble or need, the core convention for us is to go and help."
After running the idea by her mentors, Michael contacted club leaders on campus and asked if they were willing to help. Michael said the club leaders happily agreed.
"I understood that this is not a religious thing, it's not a club thing, it's way beyond," Michael said. "It's a bigger issue and it's a wonderful way for us to cooperate together."
Some of the events that are currently held on campus as part of the United Relief Campaign are a school supply drive at Starbucks. At this event, school supplies are donated and will be used to assemble school supply kits for Syrian refugees at the upcoming food truck event.
In order to promote the food truck event, the United Relief Campaign has set up tables where they tell students about the Syrian refugee crisis and hand out flyers with information.
"At the tabling we have flyers and these flyers provide background information, so people who don't know specifically what's going on with the Syrian crisis now can have a short description," sophomore Briana Shneyder said. "We also have current events that are happening written on the flyers."
Another event that was held in association with the United Relief Campaign was a talk by the Center for Equality and Justice on Nov. 5 where professor Jamshid Damooei talked about the economic impact of the current Middle East refugee crisis.
The main event on Nov. 12 will include four stations where people can assemble blankets, school supply kits and hygiene kits for Syrian refugee kids, as well as have the opportunity to donate spare change or larger sums of money, according to Michael.
In addition, Gold said 3,000 small houses will be picketed in Kingmen Park, each house representing 3,000 Syrian refugee families.
"There is going to be a passport system," Gold said. "The passports are little booklets and you will get little stickers for completing a task. Then you show that to the end table and you get to keep it, so it's kind of a little more awareness since there are facts in them."
Shneyder said the overall feedback from the students so far has been very supportive and that students are willing and looking forward to helping out at the event.
To make sure everyone is aware of the event, they will also use several other marketing strategies to promote the United Relief Campaign.
"We plan to email everybody," Shneyder said. "Also, a big marketing strategy is word of mouth, so we are telling everybody we know that they should come and help out."
The United Relief Campaign has been a huge collaboration and merging of people with different talents. Michael said she wanted to give credit to Elizabeth Roemisch for her work on the images for the United Relief Campaign.
"This event is beyond affiliation, club or any box," Michael said. "It's a humanitarian cause that all of us can help and participate in."
The main food truck event for the United Relief Campaign will be held in Kingsmen Park at Cal Lutheran on Nov. 12 from 4-7 p.m.
Karoline Johannessen
Staff Writer
Published November 11th, 2015