The Stadium has it all
November 11, 2015|21 Views
When looking for a new gym, one usually requires high-quality equipment, some fitness classes and a nice staff all, at a decent price. There's a gym in Westlake Village that hits all of those qualifications.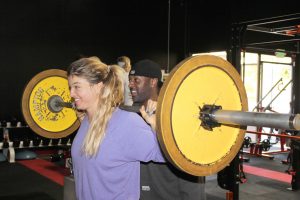 The Stadium is a gym that strives to create a community fitness environment with a fun twist- there's laser tag, a full soccer stadium, archery and much more.
The Stadium is an 18,000 plus square foot space that provides a full gym with trainers. In addition it provides entertainment as people can host parties with physically and mentally challenging games. 
One of The Stadium's partners and personal trainers, Jonathan Williams, said the gym provides a unique experience.
"It's basically Fusion Fitness. The idea came from wanting to provide something fun and interactive for people of all ages," Williams said.
The gym floor has a personal trainer, like Williams, that will guide a group of members through their individual workouts. Williams said that when people come to The Stadium they should expect a support system.
"The guys and girls we have here training can do pretty much everything and anything, which is The Stadium experience," Williams said. 
The gym provides many different services, but training is Williams' passion. He has been a personal trainer for 13 years, but started his own training business around a decade ago called New Chapter Fitness. He has brought his training style to many different gyms, but has been at The Stadium for three years. He said this style of training has been very successful because you're in a positive environment.
"We try to promote the personal aspect of training-you feel like you're part of a family and community that helps you reach your fitness goals. We don't want you to feel like just a number, we want you to feel like you have a family," Williams said.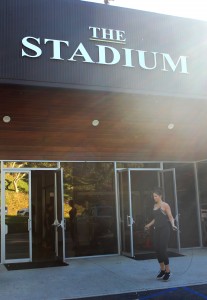 Another passion of Williams' is his faith. He said focusing on both his body and soul has helped to better himself as a person and as a trainer.
Williams teaches Bible study at the gym on Monday nights for anyone who wishes to join in. He said he realized there was a call from God to change his life.
"My No. 1 thing for a long time was fitness, fitness, fitness, but what God had for me was much more important," Williams said.
His discovery of the Gospel was a huge influence on how he trains his clients.
"I named my business New Chapter Fitness because it was a new chapter in my life. There are new chapters opening up every day with every person that comes in, and I never forget that," Williams said.
Besides a full gym and workout classes, there is also the other side of the gym where laser tag and archery are available. The Stadium is available for parties of all ages. Williams said Anthem Blue Cross held a corporate party there, but they also have kid's birthday parties.
Joseph Metcalfe is the other partner of The Stadium. He handles the entertainment and party aspect of the gym. Williams said that he is a master craftsman at what he does.
"Joe puts everything he's got into what he does. He's really creative. He's great with our parties and all that," Williams said.
Members have positive experiences attending the gym.
Jodi Steagall and Lesley Kirk met in one of Williams' boot camp classes and quickly became the best of friends. Williams calls them the coalition. They have been training with Williams for eight years and are impressed by the program.
"It's amazing. It's a great workout and I always feel good. It's the best deal and I've met some of my best friends through Williams' program," Jodi Steagall said.
They said that Williams' teaching style is positive and gives you results.
"Williams himself is the best aspect of this gym. We work out in a group but he gives you individual attention. He has never said a negative thing, he uses positive motivation," Kirk said.
Jodi Steagall's son Jacob Steagall, a California Lutheran University junior studying multimedia, also attends the gym and works out with Williams.
"It's absolutely incredible. Its personal, not super crowded, it's clean and everyone is so nice. Plus they have laser tag which is pretty awesome," Jacob Steagall said.
Cal Lutheran alumna Sloane Thomas is training with Williams for a figure competition in May, which is a form of body building competition.
"Jonathan [Williams] is the best. He's a body transformer. He's getting my muscles ready," Thomas said.
Williams said he wants Cal Lutheran students to know his gym is a great environment for them. He's even considering a special university and corporate membership price.
Williams said that The Stadium is a great workout environment, providing entertainment, and if they want, spiritual comfort.
"Cal Lu students should definitely come over here because in addition to the great facility where you can get in shape, they can also talk about Jesus. Christ," Williams said.
Mary Callaway
Senior Writer
Published November 11th, 2015