'What If: Life In A Handful Or Less'
November 11, 2015|6 Views
The Kwan Fong Gallery will soon be filled with the imaginative images of California Lutheran University alumnus Harold Muliadi. From Nov. 14 through Jan. 2, the exhibit will feature his paintings titled, "What If: Life In A Handful Or Less."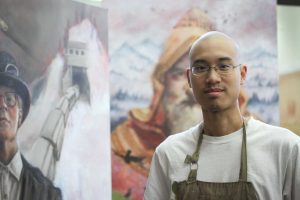 Influenced by Francisco Goya's painting "The Colossus," which features a giant towering over the countryside, Muliadi was drawn to the idea of a traveler entering a world built on a radically different scale. This concept is a theme throughout the exhibit, along with his sense of playful imagination.
"A lot of my paintings are based on this idea of seeing the world as a place for play and a place where we can use our imagination and see possibilities that we wouldn't usually think of as adults," Muliadi said.
In this exhibit, Muliadi looks back to his childhood memories for inspiration.
"One of the paintings I have is of a girl playing on the highway and she's huge and playing with the cars like they're little toy cars," Muliadi said. "That comes from when I was a little kid traveling in the back of my family's van watching cars go by and using my fingers to pretend like I was picking them up."
Muliadi also draws from his perceptions of the family and friends in his life, many of whom can be seen in his paintings.
"Another major element is that all the people I paint in these series of paintings are friends and family. This comes from when I was a kid and my sister and I would come up with bedtime stories with our mom about people we knew. They were mostly ridiculous things and it was always really fun," Muliadi said. "There's all these people that we know and the reality of meeting and talking with them, but there's also this sort of imagined thing. We really do think up all these things about people and we assume them to be true and they may or may not be. So I was toying with that and incorporating things that I do know about the people and using those as elements in the paintings but also elaborating on them."
Before transferring to Cal Lutheran, Muliadi graduated from Moorpark College in 2012 with an associate degree in anthropology. He then graduated from Cal Lutheran in 2014 as valedictorian with a bachelor's degree in art.
It was during his time at Moorpark College that the reality of becoming an artist began to seem feasible.
"One of the last classes I took at Moorpark was an art appreciation class," Muliadi said. "I have always liked to draw but I never really had the thought that I could be an artist. But after that, it just seemed a lot more accessible."
During his time at Cal Lutheran, Muliadi was mentored by art professor Michael Pearce, who is also the curator of the Kwan Fong Gallery.
"First of all, Harold's a genius. He got an 'A' in every single class he took in university. It's rather unusual to have a student who's so extraordinarily talented in everything," Pearce said. "What a treat it is to see him become a painter and choose painting above all other things. Having a student like Harold was rare and extremely pleasant."
This dedication to both artistry and academics also impressed Randy Toland, administrative assistant to the Dean of Arts and Sciences.
"I have known Harold since his last two years as an undergrad. He impressed me not only with his artistic ability, but with his focus and commitment to maintaining a high GPA," Toland said. "The paintings he submitted for his senior art exhibit showed true originality, which I don't see every year in art majors."
Along with his accom-plishments, Pearce was also struck by Muliadi's positive personality.
"He's rather a wonderful fellow," Pearce said. "I've worked with Harold for probably five years now and I've never heard him raise his voice or get cranky or irritable. He's always consistently a nice guy."
The opening reception for this exhibit will take place on Nov. 14 at 7 p.m. in the Kwan Fong Gallery. Muliadi said he hopes that his art will spark the imaginations of the people who view it.
"A lot of my art shows the importance of being able to take what's going on in your life and just put it in this context of playful imagination," Muliadi said. "Some people don't feel comfortable expressing or pursuing it, but I don't think that there's people that totally lack that. I'm just reminding people that they can bring this out in themselves."
Alexandra Randall
Staff Writer
Published November 11th, 2015