From colorful arrays of freshly-picked fruits and vegetables, to kettle corn and homemade breads, the Thousand Oaks Farmers' Market has a diverse range of products to offer.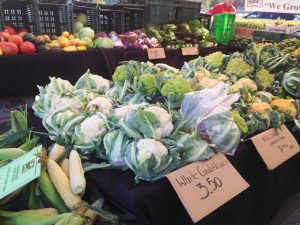 The market takes place every Thursday from 1:30-6 p.m. at the east end parking lot of the Oaks Shopping Center. Each week more than 50 farmers and food vendors come out to sell their products and interact with the community. Along with fresh produce, there are also fresh meat products, eggs, honey, nuts, fruit juices, jams and potted and cut flowers. There are even tamale and hot dog vendors there to satisfy hungry consumers.
The Thousand Oaks Farmers' Market, which functions as a not-for-profit farmers' cooperative, is run by the Ventura County Certified Farmers' Market Association. Other markets operated by VCCFM are located in Ventura and Santa Clarita.
Marisela Orozco is the VCCFM manager and has been working at the Thousand Oaks Farmers' Market for years.
"I love to work in the farmers market because you bring in fresh fruits and vegetables from the field to the customers and then you have a relationship with your customers," Orozco said.  "You see the moms when they're expecting and then when the kids are walking. Now I see them when they're 18 or 19-years-old and I met them when they were in a stroller. So it's more than a farmer's market, we've got a community."
The Thousand Oaks Farmers' Market also gives the community an opportunity to talk with their local farmers and food producers and ask questions about their products.
"You get to talk to the farmers and you know where everything is coming from," Orozco said. "It's freshly picked the day before or in the morning the day of the market. At the grocery store, you don't know where they're shipping it from and there's really no one to ask about the fruit or vegetables that you're purchasing."
One such vendor is Jim Costello who can be found at the market every week with selections of bread from his bakery, The Great Harvest Bread Company in Newbury Park. Costello is a California Lutheran University alumnus and grew up in the area.
"I think there's a lot of things at different levels. Number one, you have the farmers who are bringing the freshest products that are picked sometimes within hours, so you get a lot of variety that you won't find at a supermarket like a lot of different kinds of peaches and apples, even grapes," Costello said. "So you get the variety, you get the freshness and the opportunity to actually talk to the farmer who grew the produce. Or in my case, you can talk to the baker and find out how the bread is made. In my case we get wheat directly from the farmers that grow it, we mill our own flour and everything is handmade from scratch."
The farmers market provides local businesses with an opportunity to gauge the interest of their customers and bring their products to people who normally wouldn't have access to them.
"I like talking to people to find out what they're looking for and what they're interested in. Just finding out what the general feel is for types of products people are looking for. Like a year ago, gluten-free was really popular," Costello said. "Also for me my bakery is in Newbury Park, so I'm local but people have to drive to get to me. So when I can do farmers markets, I extend the reach of my products."
Beyond selling produce and products, the farmers' market is also a good way of connecting with friends and farmers alike.
"On another level, I think this farmers market is a good place to bring the community together," Costello said. "People come out and they see their neighbors and they run into people and it's just kind of a nice gathering place."
Some of the people that come out include Cal Lutheran students such as Athanasia Platis.
"I like going to the farmers market because it's a fun outing and I get fresh produce and bread. I really love the bread vendor. He's the best and so sweet," Platis said.
Geology professor Linda Ritterbush said in an email interview that going to farmers markets is also environmentally friendly.
"As a farmers market consumer, you have the chance to meet the people who grow your food and ask questions about chemicals," Ritterbush said. "Large corporate farms are likely the worst over-users of pesticides and herbicides, and have the least incentive to keep soil and land in good condition.  Small local farmers on the other hand, live where they farm and may even hope to pass the land on to their children, so they have the greatest interest in soil health.  Also local crops have not consumed large amounts of energy (fossil fuel) moving them around from distant growers."
Whether you go to buy the freshest produce, talk to your favorite vendors, hang out with friends or help the environment, there are many reasons to spend a Thursday afternoon at the farmers market.
Alexandra Randall
Staff Writer
Published November 18th, 2015