On the evening of Dec. 4 there was an awareness event and vigil held to discuss World AIDS Day in Swenson at California Lutheran University.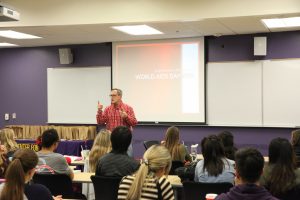 Professors that are involved with World AIDS Day as well as those whose curriculum overlap with this event had their students attend this event for awareness and more information concerning the disease.
"My Sexual Ethics professor  [Robert] Doyle, asked our class to attend this event because we are discussing HIV/AIDS currently in class," junior Matthew Weisman said. "I am definitely more informed because of listening to people that are HIV positive and hearing their life stories."
Senior Liona Barrett said the discussion at the event opened her eyes to the importance and seriousness of this disease.
"Hearing their stories made it that much more real and how important it is for people to be safe in today's society," Barrett said.
Eric Kamm, who has been HIV positive for 15 years, is a Cal Lutheran student finishing  his bachelor's degree. He began his presentation with two articles from The New York Times and the Los Angeles Times from the 1980s. According to the 1980s articles AIDS was considered "a rare cancer in homosexuals" and a "pneumonia that strikes gay men."
Kamm spoke about how over the years he has witnessed things happening to his friends who suffered from the disease.
"[Awareness] is important, slowly and surely," Kamm said."[I] still have friends diagnosed and still have friends dying."
In Kamm's presentation there was great praise to Elizabeth Taylor, who smuggled in prescriptions to help with HIV in the 1980s.
According to the Huffington Post, Dr. Howard Samuels wrote that Taylor realized "her true calling as the champion for AIDS awareness, prevention and cures."
When speaking about the disease itself and living with it, Kamm described the pain as "[having a] hammer to every bone of my body."
Once he was diagnosed, there was the debate to start the medications immediately or to wait until later. His doctor was supportive, and on Jan. 2, 2001 Kamm started his regiment, which he still continues today.
"It is unheard of for someone to be on the same regiment for 15 years," Kamm said.
Throughout the years, Kamm has been involved in the community to bring awareness about this disease.
"We feel like we failed your generation," Kamm said.
Kamm said that AIDS is a disease, and it can happen to anyone.
"[AIDS is] not just a gay disease, [it] happens to heterosexuals, just not so much," Kamm said.
After the presentation, students from Doyle's Sexual Ethics course gathered outside for the vigil that they helped organize. People shared a moment of silence for all who have passed and have been diagnosed with the disease.
"Early on it was decided that a vigil would be a very important part when it comes to the World Aids Day," professor Colleen Windham-Hughes said. "This is an opportunity for those who have been involved and diagnosed to talk about their experiences and to end the day by giving a moment of silence where people can just focus their thoughts."
Sami Steele
Staff Writer
Published December 9th, 2015