Regals win first National Title in school history
A kill attempt from Wittenburg's Kara Seidenstricker goes straight into the net. The California Lutheran University Regals are up two sets to zero in the National Championship game, a place they are all too familiar with.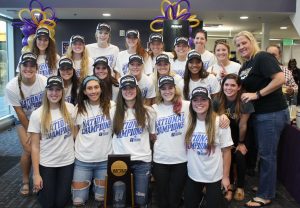 Just two seasons ago the Regals were in the same position, and after one of the most dominant seasons in Cal Lutheran history, it seemed like a National Championship was almost certain. However the Regals were not able to finish what they started and dropped the next three sets to Calvin College for what was only their second loss of the entire season.
"Losing in 2013 was devastating because I believed that those seniors deserved to win," senior right side hitter Pua Mo'Okini-Oliveira said in an email interview.
After dominating the first two sets, the Regals were driven to prevent history from repeating itself.
"No one wanted what happened in 2013 to happen again this year. Instead of going into the locker room and talking about what we could do better, we just went in there and danced and got excited that we were one game away and we needed to play with first game mentality and play together," junior libero Nicki Tetherow said in an email interview.
Anyone who has been to a Regals volleyball match has witnessed the singing and dancing that occurs on the sidelines during timeouts. This has kept the team loose yet focused on the task at hand.
"Instead of talking about volleyball and strategy, I just wanted them to turn on the strobe light and start dancing," Head Coach Kellee Roesel said in a phone interview. "We've always tried to stay loose. At the end of the day it is still volleyball. The kids on the bench love to [dance] and the kids on the court love to see it. It is a huge part of our program."
Roesel said that the dancing in the locker room was a change from 2013, where they talked strategy during the break and were not as loose as the 2015 team.
"All we did during the 10-minute break in the locker room was dance. I think that helped us to remain focused on our goal to outwork and out-team them. Dancing and singing with each other calms our nerves and pumps us up. We proved that we're pretty unstoppable when we play relaxed, confident and together," Mo'Okini-Oliveira said.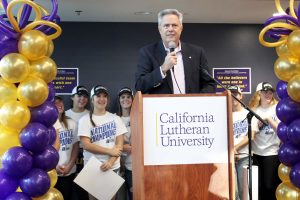 The dancing worked its charm for the Regals as they took an early 6-1 lead in the third set. While Wittenburg tied the score at seven, three straight kills from senior outside hitter Allie Eason put Cal Lutheran back on track and the Regals took the final set 25-16.
Eason was the tournament's most outstanding player, and it is only fitting that her stellar four-year career at Cal Lutheran is capped with the highest award won on the biggest stage.
"I definitely took a lot of pressure off of myself and kept reminding myself to play for my teammates, to love it for them and to be myself on the court," Eason said in an email interview. "It's absolutely incredible getting to say not only that I finished my career with a win, but with a win that made history for our program and our school. I couldn't have possibly had a more special ending."
Eason and Mo'Okini-Oliveira, the only two seniors on the Cal Lutheran team, have led by example all season long.
"We have great leaders on this team that set the stage and standard for the other kids," Roesel said.
Unlike 2013, this season was not as dominant as a run for Cal Lutheran. Despite a 14-2 conference record and first place seed in the conference tournament, the Regals lost in straight sets to Claremont-Mudd-Scripps in the Southern California Intercollegiate Athletic Conference Tournament finale. However, this loss gave the Regals the wake up call they needed and they entered the regional tournament hungrier than ever.
"I personally think being swept by CMS in the SCIAC tournament was the best thing that happened to this team. As much as I hate losing and as frustrating as it was, it gave us an entirely new mindset and reminded us that we are beatable and we can't settle for anything. It lit a fire for us and made us come together more than we had all season and brought a new intensity to our game that we had been lacking for a while," Eason said.
Despite losing the conference tournament, the Regals were fortunate enough to host the regional tournament. However it would not be an easy road, as they had to go through the No. 1 overall seed Washington-St. Louis.
Knowing this, Roesel wanted to make sure that her team was prepared for the road ahead.
"The week of the conference tournament we had a lot of injuries and kids who were sick and we didn't have competitive practices," Roesel said. "The week leading into regionals, I hammered them. We didn't do a lot of technique, we just competed for two hours. I was trying to get these kids to the next level."
The tough competition in practices and the regional tournament only helped the Regals prepare for the National Championship round.
"We all completely believed that our regional was the toughest in the nation, and we knew that if we could make it through, then we could do anything," Eason said. "We knew that all of the teams at the Elite Eight would be really good, but playing so well at our regional against such tough opponents gave us a lot of confidence going into Nationals."
After making it out of the regional tournament and winning the first two matches of the Elite Eight, the Regals were back in the championship game. The stage was set, and the only thing that could satisfy the hungry Regals was that National Championship trophy.
After cruising through two sets in the National Championship game, the Regals could have easily relaxed and let their intensity down. They knew better. Everything this team had been through had prepared them for this moment. The devastating loss in 2013. The loss to Claremont-Mudd-Scripps in the SCIAC Tournament. Their redemption at regionals. All of this made the Regals a better, more prepared team than they were in 2013. There was no way they were going to drop that third set.
While they have been a force to reckon with for the past several years, the Regals can finally say they are the best. Each player, no matter how significant, left her mark on Cal Lutheran history. This is more than a National Championship. It is a culmination of hard work, dedication and talent combined.
"Every day, I thought about the girls who have laid the foundation for this program and shaped it to what it is today. Everyday I got to know the girls on the team a little better and am now proud to truly call them my sisters," Mo-Okini-Oliveira said. "This National Championship means so much more than just a trophy. It's hustling every minute of practice and calling out the girl next to you if she needs to pick it up. It's waking up at 5:30 a.m. during the spring and being able to barely walk after weights. It's wanting to beat everyone else in Judd's Adventures. But mostly, it's a sisterhood that [Allie Eason] and I, along with every former Cal Lu volleyball player, will leave in the hands of fourteen more than capable girls to continue showing what it means to be a Regal and what it means to believe."
Ramsey Abushala
Sports Editor
Published December 9th, 2015