Gillies goes from professor to overnight best-seller
February 10, 2016|17 Views
From spending 22 years in the Navy on the flight deck of an aircraft carrier to working as a technician on the engines of destroyers, Dr. Bruce Gillies has had an adventurous past that accompanies a promising future.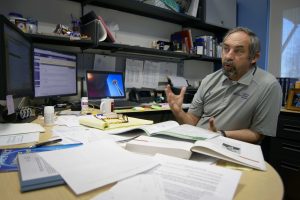 Gillies has had his fair share of jobs before settling into being a professor at California Lutheran University. He spent much of his time on ships in the Persian Gulf under first commanding officer John McCain before working in human resources. Gillies eventually became a career counselor in the Navy because he wanted to help others find their paths in life.
"I kind of wanted to help people figure out what they want to do because I've had the opportunity to experience all these other jobs. I know a lot about them so I could help people with that," Gillies said."There's a lot of different things to figure out where you want to work and what kind of job you want to do and I had a great time doing that."
Gillies received his bachelor's degree in sociology and his master's degree in psychology, both while on active duty in the Navy. After he retired, he obtained his doctorate in industrial/ organizational psychology from United States International University.
He knew he had a passion for teaching after he was offered a job in Memphis, Tennessee as a full-time faculty member teaching organizational management. His wife being transferred in the Navy is what brought him to California, where he landed a job at Cal Lutheran as a statistics professor. He then became the Director of the Adult Degree Evening Program, which he was in charge of from 2005 to 2010. At the end of that five years, Gillies decided to stick to teaching despite his administrative offers.
One of the most remarkable accomplishments of Gillies' life, however, has been the book he has written that sold out on Amazon in just one day.
"It's in the top 100 of all the books in that genre, so it's considered a bestselling book. I'm a bestselling author within the first week, how about that," Gillies said.
Throughout all of his years as a career counselor and professor, Gillies wanted to take everything that he knew and channel it into a book that he could refer to during his teaching career.
"I needed to put down everything that I knew in some sort of an organized manner anyway. There's so much when you want to figure out what you want to do in your career, and I thought I might as well go ahead and write a book on it and get it out there because it's going to be a good resource for me too instead of trying to keep it all in my mind," Gillies said.
He also described the process of writing the book as an educational experience, where he was able to figure things out as he went. He also credits the success of the book to his editor from Prominent Books, who spent long hours bringing the book to it's full potential, along with his wife who helped with a lot of the proofreading.
Throughout his time at Cal Lutheran, Gillies has earned the respect of both faculty and students alike. Gerhard Apfelthaler, dean and professor in International Business at the School of Management at Cal Lutheran, has been a colleague and friend of Gillies for over seven years.
"He is one of those rare individuals who can be very professional and a lot of fun at the same time," Apfelthaler said. "The best about him, I don't think there's a difference between professor Bruce Gillies and the private individual Bruce Gillies. He is always the same helpful, friendly, hard-working, professional person."
Students in the business department often have Gillies as a professor and may even have him as an academic advisor. Senior business major, Nathan Davidson, recalls his experiences with Gillies throughout his time at Cal Lutheran.
"I really enjoyed having class with Dr. Gillies," Davidson said. "I thought that as a teacher he does a very good job of connecting every class session with the business world and professional work place. I also have Dr. Gillies as my faculty advisor and enjoy talking to him particularly about sports. He is also very willing to help students connect with people he knows that may have potential job or internship openings."
McKay Weiler
Staff Writer
Published February 10th, 2016