College is a place that welcomes people of all genders, races and ethnicities. Allyssa Moscotte, a California Lutheran University student, is determined to bridge gaps on the campus of Cal Lutheran by starting a new project called Humans of Cal Lutheran.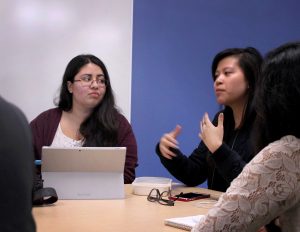 Moscotte said the project is based off of Humans of New York, which is "a massively successful project that focuses on the personal stories of people in New York."
According to the Humans of New York website, it was started by Brandon Stanton with the intention of creating a blog to tell short stories of random strangers that live in his city. In less than six years, the startup idea has bloomed into a social media feed with over eight million followers, a vibrant blog and a New York Times bestselling book.
Although Moscotte got the idea from Stanton, she said it was not until seeing the variations of this project done at other major universities that really got her motivated to start one here.
"I reached out to UCLA, Boston University and Villanova University, all schools that have fairly active Humans of projects and they each shared with me how they started the project on their campus, how they generally run it and tips for starting my own," Moscotte said.
Once the idea was planted and the information was collected, Moscotte began her search to get it approved and find help.
"I spoke to multicultural hoping that they would be able to give me some direction as to who I could ask for backing on this project and that's when Dr. Hall informed me about their diversity initiative mini-grants that multicultural awards to applicants whose projects coincide with the diversity initiative and general mission of the university," Moscotte said.
Juanita Hall, the senior director of multicultural and international student services, was very excited to hear about Moscotte's idea and her passion for the project was clear.
"I think projects like this help build a more inclusive campus community where a diversity of voices are heard and appreciated. I encourage other students to use their creativity in similar ways and the CDI provides mini-grants to help make these ideas a reality," Hall said in an email interview.
With the funding all figured out, Moscotte was now in search of a mentor and group members. Thankfully she got in touch with one of her professors, Dan Restuccio of the Multimedia department, who offered to help the group. She also reached out to Joey Luau, another Cal Lutheran student, to be her vice head officer.
"The goal of this project is to give the people at CLU voice and I look forward most to being exposed to the different stories that could open my eyes to new perspectives," Luau said.
From accepting the grant during winter break to following through with each step to build this project from the ground up, it was finally time to begin the story process. Feb.3  was the first official meeting of Humans of Cal Lutheran and according to Luau, it was a big success.
"I would aim to tackle several of the diversity initiatives including promoting personal narratives, improving the community appreciation of local diversity and enhance understanding and respect between our diverse members of the CLU," Moscotte said.
Makenna Pellerin
Staff Writer
Published February 10th, 2016