Beloved CLU Board of Regents member dies at 88
February 24, 2016|7 Views
Marv Soiland, California Lutheran University donor, 21-year Board of Regents member and founder and CEO of Soiland Company, died at age 88 on Feb. 8 of natural causes.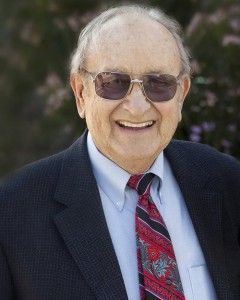 Along with his wife Fran Soiland, Marv Soiland contributed to numerous funds at Cal Lutheran. His first donation included four horses for the Cal Lutheran equestrian program.         
From there, the couple continued to donate to other campus needs such as the Gilbert Sports and Fitness Center, Samuelson Chapel, Pearson Library, Spies-Bornemann Center for Education and Technology and Swenson Center for the Social and Behavioral Sciences.
Soiland Humanities Center and Soiland Gym both bear his name to attribute his donations and service to Cal Lutheran.
As a father of seven children, Marv Soiland instilled his passion for helping others into his children.
"[My father taught] lessons on financial stewardship, being good stewards of your earnings and your tithing and your borrowing," Marv Soiland's son, Troy Soiland, said. "Those are probably the most valuable life lessons."
After graduating from Santa Rosa High School at the age of 16, Marv Soiland spent one year at Santa Rosa Community College before enlisting in the Navy.
Marv Soiland served during World War II before taking a break from the service to attend Pacific Lutheran University and eventually earned a degree in engineering from Oregon State University.
He later returned to the service during the Korean War to work in the Navy's construction battalions as a transport officer.
In 1962, Marv Soiland opened his pipeline construction business Soiland Company which is operated today by Marv Soiland's youngest son Mark Soiland.
As a man of many passions, Marv Soiland loved his work and his family.
"[My grandpa loved] contributing to his community in a way that would last generations; that's really what he valued about construction," Jewel Soiland,  Marv Soiland's granddaughter and Cal Lutheran sophomore, said  "One of the reasons he liked giving to Cal Lutheran was his passion for giving to others and benefiting others."
In addition to his other services, Marv Soiland was a member of the California Lutheran Educational Foundation Board of Trustees and also chaired the Administration and Finance Committee at Cal Lutheran for two decades.
In 2004, Cal Lutheran recognized Marv Soiland with an honorary doctorate and in 2010 they gave him the Christus Award for "his exceptional leadership and contributions to higher education in the Evangelical Lutheran Church of America," Cal Lutheran President Chris Kimball said in mass email to the Cal Lutheran community.
"It really made him feel good that he made an impact,"Troy Soiland said. "His life did matter, and people know this. He touched a lot of lives, and we all know this and I think that made him feel so good to be a contributor to Cal Lutheran."
Marv Soiland is survived by his wife Fran, his brother Al, seven children, fifteen grandchildren and six great-grandchildren.
Rachael Balcom
Staff Writer
Published February 24th, 2016