On Feb. 19, the Regals water polo team hosted their first two home games of the 2016 season. After a tough loss to Azuza Pacific earlier on in the day, California Lutheran University came back in full force against their first Division III team this year, Grove City.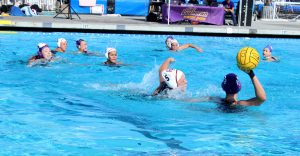 Leading the way for Cal Lutheran were sophomore center Kristi McGee and sophomore attacker Kayla Wagenhofer who scored six combined goals. Along with Mcgee and Wagenhofer were two goals for sophomore attacker KC Brendel and two goals for freshman attacker Mardell Ramirez.
Cal Lutheran was able to get this start due to how well they stuck to their scouting report.
"Our six-on-five man up advantages were really good, however our defense needs some work. Second game we followed the scout very well, first game we had some lapses but overall we figured it out the second game," senior attacker Tatiana McCuaig said.
McCuaig alongside Wagenhofer both supplied two assists of their own. 
Cal Lutheran not only got the victory, but four new faces got to see action. Freshmen Morgan Towner, Nicole Guerriero, Jacie Fukada, and Bailey Meyer. Along with them 22 total Regals were allowed minutes in the water, which goes to show that this was definitely a team effort.
Senior center Maggie Kurzeka said that there were many aspects that went into this victory today including their double workouts where they mainly focused on counter attacks and defense, which resulted in them giving it their all in the water against their opponent.
Kurzeka also contributed two of Cal Lutheran's 18 total steals along with senior attacker Bailey Likewise, McGee and Wagenhofer.
Although this game was offensively very strong, the violet and gold were just as competitive on the defensive side of things.
Head Coach Craig Rond said there were many key factors that differed between the two games played.
"We have been struggling to score goals and make shots so we told the girls they need to stay confident and believe they're going to put the ball away and in the second game they were able to accomplish that," Rond said.
That is exactly what happened for the Regals this game. Their early stops and tenacious defense created their offense, which helped them to the 16-2 victory over Grove City.
The Regals look to continue their success into the Tina Finali Invitational hosted at Cal Lutheran from Feb. 26-28. They will have a busy weekend, with six games in just three days.
Chelsea Jacoby
Staff Writer
Published February 24th, 2016