Cal Lutheran's softball team snapped a four-game losing streak after ruling over the Brandeis Judges 4-1 on Feb. 17 and cleaned up Feb. 20 against the Whittier Poets in a two-game sweep at home on Hutton Field.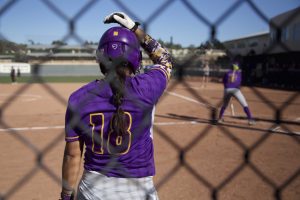 The Regals dictated the double-header against the Poets and would dominate their Southern California Intercollegiate Athletic Conference rival that afternoon, defeating them by scores of 7-1 and 11-6.
The Poets surrendered a total of nine hits and seven runs in the first game, while Cal Lutheran's right-handed pitcher Courtney Sooy gave up only a single run in seven innings, leading the Regals to a victory in game one.
"They come in every day and work hard in the weight room and in practice.  They put in 100 percent in order to make sure they're prepared for the game," Regals Head Coach Debby Day said. "Their work ethic and enthusiasm is incredible and that is our team's biggest strength and something I believe will put us at the top." 
After the first game, the Regals didn't have much time to celebrate or rest before they were back out onto the field for game number two of the afternoon. 
The first few innings of the second game teetered back and forth with the two teams tied at 4 heading into the fifth inning. In the bottom of the fifth, the Regals offense exploded, bringing in five more runs that would eventually secure their second conference win of the season. 
"After losing four games in a row, we had to focus more on bringing out their personality and the team's chemistry," Day said.  "We have the physical skills. We can hit. We can pitch. We can catch and we can throw. We just needed them to relax and not put so much pressure on themselves and to just have fun during the game." 
The Regals showed everyone that afternoon it is possible to work hard and play hard simultaneously. The liveliness inside Cal Lutheran's dugout was contagious and their energy level continued to escalate throughout the two-game series. 
"Our energy this season is better than it has ever been. We're always doing silly things to get us hyped for the game.  Being silly and goofy can actually help me stay focused," senior outfielder Hannah Brown said. "My biggest weakness is swinging at rise balls and today when I watched one go by, I heard my team screaming and cheering my name. After that, I had the biggest smile on my face which helped me to relax and to have fun." 
Cal Lutheran's rowdy and rambunctious dugout seemed to also impact their opponents – in a negative way.  As the Regals' energy level picked up, the Poets slowed down drastically. At one point in the second game of the series, Whittier players were seen doing suicide sprints in foul territory in attempt to get them up and moving again.             
"We also just like to be obnoxious," senior outfielder Andrea Brackpool added.
The Regals' coaches could be seen and heard chanting and cheering with the best of them and Day's passion and love for the game is completely transparent when she's on the field with her players.
"I want them to feed off of my love for the game because it has been so good to me. As their coach, I want them to know I am going to push them to be the best athlete and person they can be," Day said. "People forget that we're playing a game and we want them to have a good time. It's not always fun. It is hard work, but they only get to play for so much longer so we want to make sure they're having as much fun as possible. And of course, winning is always fun." 
The Regals improved to 7-6 overall and 2-2 in the conference this weekend and will host Claremont-Mudd-Scripps in another SCIAC double-header matchup on Feb. 27.   
Tate Rutland
Staff Writer
Published February 24th, 2016