The Color Dash 5K took place on Feb. 27 around the California Lutheran University campus for its fourth year.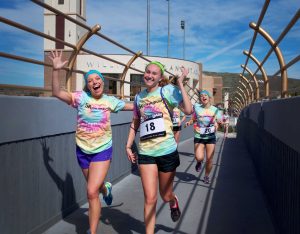 "The Color Dash is a 3.1 mile run around campus, like the popular Color Run. It's a little different this year as it will be a twist on the Color Dash of the past. There's different giveaways, prizes, raffles and we added some cool new elements to the run," Shelby Pleiss, ASCLUG Programs Board committee, said.
Pleiss served as the head committee chair for the Color Dash. Last year she was an intern with Wellness Programs, which was in charge of the event. Pleiss said she was approached to help because of her experience with the event in the past. When she brought it to her committee, she said they were excited and ready to help.
"We have learned that students want to do this fun, healthy event. It's something they have seen done by other schools and in the community and bringing it here to CLU, they really appreciate it," Amber Trujillo, ASCLUG Programs Board Director, said.
One aspect that is different this year is the price change.
"This year Programs Board and Student Life came together to plan the event. By coming together, we combined our budgets so we could make it free for students," Trujillo said.
The price change made an impact. With 200 students signed up prior to race day, up from 150 last year, Trujillo said it was the highest turnout they have had.
"I signed up because I'd never participated in a color run before and I thought it was a cool opportunity to participate in one on campus with my friends for free, " sophomore Mikayla Dobson said.
Getting students to know there was a price change was a task for marketing. Trujillo said they used posters and social media to get the word out about this free event.
"I saw the posters on campus and since I had never done one before, I thought it would be a great thing to do with my friends," sophomore Molly Holloway said.
The course took students all throughout campus, starting in Kingsmen Park and ending at the finish line on Mt. Clef field. As participants finished they were greeted with music and bubbles.
"My experience was really fun. Although it was a lot harder than I thought it would be it was still worth waking up and getting a bunch of free goodies," Dobson said.
Fun was definitely a shared emotion by runners when talking about their experience. One part that was well received was the raffle.
"It was hot out and tiring, but still really fun. They gave out small gifts as we ran and then they had a raffle at the end. It was a nice thing to add for when everyone finished," Holloway said.
Pleiss said she hoped students would have a fun time because she enjoyed working on the event.
"I would definitely run the event again," Holloway said. "I'll be telling my friends all about it."   
Coral Hasley
Staff Writer
Published March 2nd, 2016