CLU community eats their words
California Lutheran University's third annual Edible Book Festival took place in the Pearson Library lobby April 1, where students, faculty and staff displayed their baked creations for all to taste.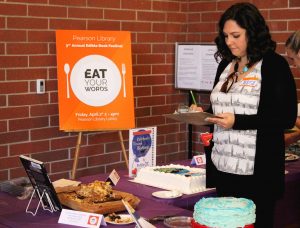 According to the Pearson Library website, the festival is in commemoration of French physician Jean-Anthelme Brillat Savarin who wrote, "The Physiology of Taste."
"This is actually an international event, so it's celebrated by libraries around the world on April 1, which is [Savarin's] birthday. Being that it's also April Fools, it kind of allows some opportunity to do some fun things," said Henri Mondschein, Pearson Library Information Specialist said.
Mondschein said that this festival also takes place annually at Duke University, Santa Barbara City College and the University of Wisconsin. The Books2Eat website, created by artist Béatrice Coron, exhibits a photo gallery of edible books from international festivals.
Mondschein, who coordinated the event at Cal Lutheran, said that this year's festival was different from past ones because several entries came from students rather than faculty. Past participants are allowed to enter every year and can range from undergraduate students to food lovers to anyone who reads.
"The way it works is that the creations are on display and it's based on the theme of a book or a movie and you can create anything you want. It doesn't have to be a cake. It could be anything edible, so some people have even made fruit platters that look like characters," Mondschein said.
This year's festival began at 2 p.m. where contestants dropped off their baked goods and the audience was allowed to look at and take pictures of the creations. Judges included Director of Auxiliaries Clinton Oie, academic counselor Chiara Lamb, and Study Abroad Director Lisa Loberg. The judges scored entries based on presentation, creativity and taste.
IT Project Manager Vicki Danko won "Most Humorous" back in 2014 when the first Cal Lutheran edible book festival took place. In 2014, she created a cake based on "101 Dalmatians" in which she placed 101 animal crackers with several frosting dots to resemble the dogs in the story. This year, she chose "Fahrenheit 451."
"I thought it was kind of an interesting play because it's a book about books and it's a book about a fireman who has a responsibility for burning books.  I thought it was kind of fun and it should make a great looking cake because you can make something that looks like fire," Danko said.
Senior Amanda Adams said she created a cake based on "The Very Hungry Caterpillar" because it is one of her favorite books that she has read. She participated in this year's festival for the first time because she loves to bake.
For her cake, Adams took a chocolate bundt cake and cut it in half, twisting both halves in opposite directions to form a caterpillar shape. She painted it with different shades of green frosting and decorated with chocolate chips for the eyes and feet and red vines for the antennas.
"I've seen [the festival] throughout the years and I love to bake. So, I just thought it'd be a fun thing to do something other than school for once. Any reason to bake for me, I love it. I've been baking ever since I was little, so I like to try new recipes," Adams said.
For the "Best Tasting" category, Danko won with her entry based on "Fahrenheit 451." For the "Most Creative" category, there was a tie between senior MBA program specialist Tiki Van Heest with her entry based on "Anne of Green Gables" and senior Monica Louis who created a cake inspired by "The Tale of Peter Rabbit". The 'Best Overall' award was given to Adams for her cake inspired by "The Very Hungry Caterpillar."
Winners received certificates as well as prizes that included gift cards and Muvico tickets. Afterward, Mondschein opened it up to everyone to taste the entries and finish eating them.
"It's one of those events that is both educational and fun," Danko said. "It's an opportunity to do something different, to think outside of the box. It opens up and focuses awareness on some of the fun and extra things that the Pearson Library does. So, it's a great opportunity to participate in that."
Leina Rayshouny
Senior Writer
Published April 6th, 2016