California Lutheran University is home to many different cultures from around the world. The Multicultural Programs department and Dance department put on the Dance Around The World event for  those who wanted to share the dance from their respective cultures.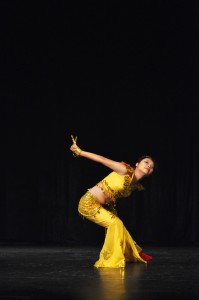 Its aim is to represented some of these countries with an event, which exhibited dances from some of these countries.
Linda Boberg, assistant director, International Student Services, Multicultural Programs and the creator of this event, wanted to introduce Cal Lutheran in an effort to help showcase the dances of international students.
"I can't dance but the Tarantella is part of my heritage. I wanted to showcase it to allow students here to express themselves in a way that Cal Lu had not really had in the past," Boberg said.     The event included dances from most continents, such as the aforementioned Tarantella from southern Italy and a performance called Goddess of Mercy with One Thousand Hands. Some performed live and others were displayed through video.
Cal Lutheran student Ellie Wang opened the event by performing the Goddess of Mercy with One Thousand Hands. This dance aimed to showcase Chinese culture and its expression of helping hands and solidarity with those around you, according to the Taoism website.
Wang went on to perform three more dances throughout the entire event including the Peacock dance.
The Peacock dance, originating from Dai culture, represents the beauty and kindness of their culture with the peacock acting as inspiration. They also consider the peacock as a goddess that can bring them peace and happiness with prayer through the peacock dance, according to information given at the event.
Also in attendance was Cal Lutherans Dance Multicultural Club, performing a "jazzy hip hop" number, according to Vice President of DMC, Kelsey Reed.
"Because we are a multicultural club, Linda Boberg reached out to us and asked us if we would participate and of course we said yes because we love performing and especially if it's to promote cultures other than our own," Reed said.
The performance put on by DMC was followed by a video of Irish step dancing, or a jig, according to Boberg.
"This style of dance was also a part of my childhood as I did participate in Irish jigs. It served as part of the inspiration for this event also," Boberg said.
The Japanese dance named Bon Odori was performed by Gakuta Shimizu and was  accompanied by a video of the music that usually goes along with this performance. This is a traditional dance that welcomes the spirits of the dead during the Bon festival.
Shimizu was in traditional robes while executing this dance, which added to the passion and accuracy with all of these performances.
  "[This is] the first event of this type on campus run through the Multicultural Program office," Boberg said. "Obviously we don't expect it to attract that many people, however we will incorporate more dances like Greek or several South American dances as well."
The last performance of the event was Tai Chi and was performed by adjunct professor David Chang. Chang was accompanied by the Oak Park Tai Chi club. Complete with matching red fans, the coordinated movement was a calm and relaxing end to the event, according to senior Patrick Jimenez.
"When I heard about this event, I did not know what exactly to expect. It was a pleasant surprise to find that some of the dances listed in the program were performed live and with a lot of enthusiasm," Jimenez said.
With more students suggesting dances to be included for live performance, it will be a matter of time until the event is primarily relied on the whim and flexibility of those dancing.
Connor McKinney
Staff Writer
Published April 6th, 2016