Edward Hill escapes reality with debut album
A double major in music production and communication, drummer for his church band, member and producer of the electronic chill band No Suits and now a DJ. These may sound like the accomplishments of several different people, but senior Edward Hill acts like it's no big deal.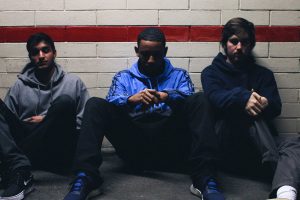 Music has been part of Hill's life since childhood.
"I've been playing drums since I was 8-years-old," Hill said. "I started playing at my dad's church, playing church music and just went on from there."
Hill said his early experience drumming at church sparked his passion for music at an early age.
"Drums led me toward producing music," Hill said. "When I was 14-years-old I got into music production on computer programs and stuff like that and that's why I am actually a music production major today."
The desire to major in music production led him to California Lutheran University, where he met junior Max Pierro, a member of No Suits.
"We were taking a lot of the same classes because we are both music production majors and we ended up liking a lot of similar music I asked him to work on a track then met at his house and we just kept working [and] naturally got along," Pierro said in an email interview.
The duo's common interests and chemistry led Hill to another journey in his musical career when he joined the band No Suits.
"In the spring of 2015 Max asked me if I wanted to be a part of a group with him and his friend, so that's when I became a part of No Suits," Hill said. "They had already been a band since their senior year in high school so they had already been together awhile, but they had not really released many tracks."
Pierro said the group welcomed Hill into the group swiftly.
"[We] all kind of just meshed and jelled really well," Pierro said. "Edward is an amazing drummer and bassist so naturally that helps a ton, but he also has a bunch of good ideas."
Since becoming a trio, No Suits has released three tracks on SoundCloud that have started to get noticed, boasting over 100,000 plays by users. Fellow band member Sajan Sanghvi said he credits Hill with helping to jump-start the group's popularity.
"[Edward] is an extremely talented songwriter and drummer who also plays bass and he filled a huge gap that we didn't really have before," Sanghvi said. "It's been awesome, he's produced way more well-rounded tracks with a lot better production style."
Even though Hill will be graduating at the end of the semester, this does not mean the end of No Suits, he said he believes they have more to offer and will carry this project on with hopes of turning this opportunity into a possible career.
"I think we've really evolved our production style as a group and we see ourselves progressing even more because our tracks are doing really well and we have so much in store that is different from what we have already produced," Sanghvi said.
"In the not too distant future we have some shows and a music video," Pierro said. "That's the plan, I think anyone is really blessed if they can make money doing the thing they love."
Even though Hill plans to continue on as a member of No Suits as well as find time to still play drums for his church, he has found himself serving more onto his plate.
"I'm performing Cal Lu Palooza [this] Friday [April 8}, just me as a DJ under the name E3…this is my first time performing as a DJ," Hill said. "Around October of last year I started DJing, Max taught me a few things about it and got me started, and ever since then I've loved it."
Hill said he is having fun playing music in all different forms, but Hill also has other ambitions that he plans to go after once he is graduated.
"I'm really into film, I'm into producing, shooting and sound for film as well," Hill said. "I think for me personally that's the kind of career I want to make. As for No Suits, I think that's something I'll always be doing because music is something I love doing."
"Strawberry Wine" and "Escape Reality" are some of the songs by No Suits that can be found on SoundCloud or through their Facebook page by looking up No Suits.
Evan Underwood
Staff Writer
Published April 6th, 2016