Regals cage Tigers on rainy senior day
On April 9, the California Lutheran University women's water polo team defeated the Occidental College Tigers in its last home game of the season, with a 13-8 win in the rain.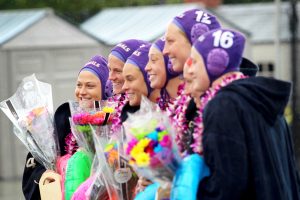 Coming off two straight conference losses, the Regals were ready for the win.
"I was really excited with how we played today," senior utility attacker Darby Schuett said. "We've kind of been not really playing Cal Lu water polo the past couple of games, but today has really showed what we can do."
The first quarter started with senior goalkeeper Gina Merry blocking an Occidental shot three minutes in.
The Regals answered seconds later by scoring the first goal of the game.
Cal Lutheran kept the pressure on the Tigers and finished out the first quarter with a 3-1 lead.
"We just came out with a lot of confident energy," Head Coach Craig Rond said. "We've been talking to the girls that you've got to believe in yourself and in your teammates and you have to play that way—and they finally did today."
In the second quarter, Occidental fought back, keeping the game moving from one end of the pool to the other and scoring an additional two goals.
But even with the Tigers' extra momentum, the Regals powered past and also scored three times, bringing the score to 6-3 at the half.
"We knew their offensive scheme, we knew that they liked to drive a lot, so we told the girls that if we cannot get excluded, that we probably have a good chance to stay in the game and we knew they were going to move a lot, so we prepped that way," Rond said.
The third quarter brought a lot of work to the Cal Lutheran defense.
Despite added pressure from the Tigers in the third period, the Regals defense was able to remain strong and shut down any goal attempts Occidental made.
"I thought our defense was great in the first three quarters," Rond said. "We slipped up a little at the end there, but our defense was great, and we always say great defense will lead you right into offensive opportunities."
In the fourth quarter, the game became a back-and-forth race across the pool for points.
With 33 seconds left, Schuett scored a five meter penalty shot, clinching the Regals' victory.
"It's a good win," sophomore attacker Cindy Delic said. "We needed a win and we were kind of down for a while, so it feels good to win. It feels good to do what we're capable of doing."
The Regals will compete in one more away game against Pomona-Pitzer, but this matchup was the last home game for the team along with the seven graduating seniors.
"These are beautiful girls, great women, student athletes, [and] just wonderful people," Rond said. "We've had a roller coaster of ups and downs. We've had sad moments and great moments, but they stuck it out and I was just really proud of them. We told them as long as we're on this earth, whatever you need in life, we're there as coaches, [because] once a Regal, always a Regal."
Rachael Balcom
Staff Writer
Published April 13th, 2016