Softball snapped by Sagehens in doubleheader
California Lutheran University's softball team took on Pomona-Pitzer in a doubleheader on April 10.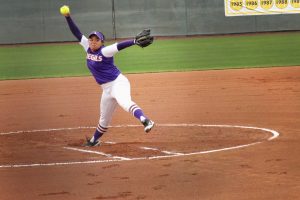 During their first game, the Regals started out with a 5-0 lead in the first inning. However, as the game went on, the Sagehens slowly clawed their way back into the game and eventually ended up winning with an 8-6 score.
"Each team has seven chances to score, so we come up with our first chance and score five runs ,but then the other team gets the same amount of chances, so they started to put some runs and pick away and pick away and eventually they ended up all in all scoring more than we ended up scoring," Assistant Coach Sam Fischer said.
Once Pomona-Pitzer started to score a few runs and chip away at the Regals' lead, the team couldn't keep their mental focus.
"We scored a lot in the beginning and then we just couldn't fight back," sophomore infielder Antonia Rapisardi said. "We were just swinging at pitches we shouldn't have been swinging at and kind of lose ourselves when the game starts to go wrong."
Overall, the first game was an unexpected loss because the Regals started out strong, but couldn't fight back as the opposing team continued to make runs.
"It was just one of those games where we got comfortable in our good lead and the other team kind of just chipped away and came back," Fischer said.
After the second game, the Regals fell short again losing 6-0, not being able to generate enough offense to score against the Sagehens.
"We just didn't string a lot of hits together and that's how you win games. You win by manufacturing runs and we didn't manufacture runs this game," Fischer said.
One of the reasons Cal Lutheran couldn't get enough runs was because they weren't able to foresee how the pitcher was going to throw. The Regals weren't expecting a strong play from Pomona-Pitzer's Liz Rodarte. Even though her pitches weren't fast, the movement on her pitches was enough to deceive the Regals hitters.
"Their pitching was better during the second game. She didn't have speed, but she had a lot of movement which kind of threw us off,"  Hannah Brown, senior outfielder said.
Because the other team maintained strong pitching, the Regals also struggled to make effective offensive plays.
"We just had a hard time finding a groove off this pitcher. I think that she surprised us with how well she threw and I think it was the offense we just didn't put anything together," Fischer said.
Despite lacking a strong offensive game, the Regals played stellar defense throughout the doubleheader, committing just one error total in both games.
"I think that they played good defense. A lot of the runs that they scored were earned runs. We did make some mistakes, but that's going to happen in softball. You're going to make mistakes every game,"  Fischer said. "I think they did a good job holding their own on defense and they didn't get as rattled as we have in a past. I think they're doing a good job coming along mentally and defensively."
Cal Lutheran still plans to come out strong in the second half of their season to place themselves as one of the top four teams.
"We will play them again not this Friday, but next Friday at their house. We want to be in the top four. We have to play everybody again. This is right now the halfway point, so we still have plenty of time to get back on top. We just have to keep winning,"  Fischer said.
The Regals will have to wait until April 22 to play Pomona next and their next game is at Claremont-Mudd-Scripps on April 15.
Sarin Goncuian
Staff Writer
Published April 13th, 2016