Eljaye: Poetry in motion meets razor sharp wit
California Lutheran University welcomed back comedian Eljaye to perform an hour and a half stand up routine at the Preus-Brandt Forum April 14. According to Cal Lutheran's event webpage the Hub, Eljaye is known for his "grace and precision of a dancer, every move is poetry in motion. This, combined with his razor sharp wit and rapid-fire delivery, it's no wonder why he is known as the 'Raging Bull' of comedy."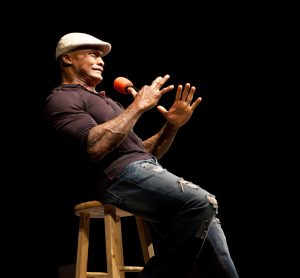 The undergraduate admissions office sponsored the event as an incentive to attract more prospective students and give them a chance to experience the campus culture. The routine was immediately followed with an hour of improvisation from the Cal Lutheran alumni and current improvisation team, giving the first two rows of prospective students a real treat.
"[Eljaye] is part of the InCLUsive Overnight Program and he was the first comedian to be featured when the program started. Because we want to celebrate diversity and inclusiveness, we decided to do it in a fun and lighter tone. The InCLUSive overnight program gives students who may have not had the chance to visit campus the right opportunity to do so," Tracy How, assistant director of undergraduate admission, said. 
The prospective students felt welcomed as Eljaye asked them about where they came from and poked fun at certain stereotypes. The comedian quickly made friends in the audience while he shared his awkward experiences with racism and prejudice.
"In comedy, we have something that's called a left turn. So what I like to do is play with stereotypes. Anytime you can go against a stereotype, without being offensive, is great. I think that they [stereotypes] divide us, but they're also becoming obsolete," Eljaye said.
Eljaye's interaction with the audience continued when he began asking students what they were studying or thinking about studying. He emphasized the importance of learning a lot about the world so that tolerance could become a thing of the future.
"I really liked how his brand of comedy isn't too raunchy and that you can relate to him. He makes fun of himself a lot and that takes away the awkwardness when he says things that might be uncomfortable to some people," Christian Vasquez, a prospective student, said.
In addition to poking fun at racial stereotypes, Eljaye spoke about different aspects of his life that people have judged him for. He is a proud vegan, but said he doesn't understand vegetarians or people who do crossfit. He always returned to some of the same people in the audience that he initially singled out by reinforcing what made them unique.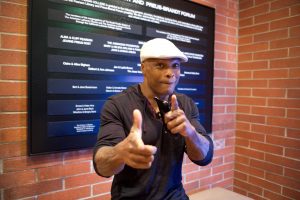 "He was very fun to listen to. I know that stereotypes tend to hurt other people, but if you can make other people laugh about them, then you can also laugh at yourself. It's pretty amazing how we can be different, but can still laugh at similar experiences, especially when we are stereotyped," Brittany Smallwood, another prospective student, said.
Apart from doing comedy, Eljaye shared his experiences about studying science in college and being a music producer. He recalled certain instances where racism made him laugh, especially on dates and while walking down the street.
Laughter arose from the audience when his experiences tied back to his opinions on racist people. He shared how he's fond on calling out other people for being judgmental in spiteful ways.
"I love to have fun. Older people, a lot of them don't know. They're still thinking to when they were kids and these stereotypes were relevant," Eljaye said. "Expand your diversity until we don't need words like 'inclusion' anymore."
Mario Granados
Staff Writer
Published April 20th, 2016