The California Lutheran University baseball team has placed in the top four in the Southern California Intercollegiate Athletic Conference every year since 1992, which was the first year Cal Lutheran joined the SCIAC.
This year they are poised to finish in the top four again and are looking to win their fourth straight conference championship.
The Kingsmen have a group of players that are transfers meaning they did not come to Cal Lutheran their freshman year. In recent years, transfer players have helped the baseball program as a whole.
Of the 30 members on the Kingsmen roster, there are c urrently eight transfers from either Division I, II or junior college institutions.
This year, five new transfers came to Cal Lutheran and are playing an integral role in the Kingsmen's success.
The Kingsmen are coming off a three game sweep of the University of La Verne and currently have a 23-9 overall record while holding a 17-4 conference record, good enough for second in the conference.
Cal Lutheran is set to play first-place Occidental in a pivotal SCIAC series on April 22-23.
The winner of the series will be in first place heading into the final four games of conference play.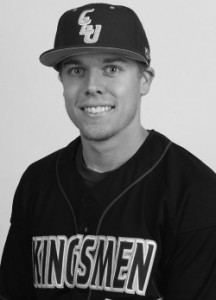 Chad Clark is the second basemen for the Kingsmen. Prior to coming to Cal Lutheran, he attended the and played baseball for University of Indiana for three years.
Clark played three seasons with the Hoosiers and had a combined batting average of .233 with 86 hits and four homeruns in 128 games.
Clark helped propel his team to the College World Series in 2013 by hitting a walk-off homerun in the first game of the NCAA Regionals against Valparasio University.
Clark then transferred to the California State University Northridge and had to sit out a year because of the Division I transfer rule then transferred to Cal Lutheran to finish out his senior season.
Clark has currently appeared in 32 games for the Kingsmen, collected 44 hits, three of which are homeruns and he sits on a .373 average, fourth on the team.
"[Cal Lutheran] is a lot more laid back. You are kind of on your own and have to hold yourself accountable for your performance on the field and in the classroom," Clark said. "At the DI level you kind of have to be with your team for most of the time throughout the week and we had tutors also that helped us out so we were staying eligible. Here you're on your own and playing because you love it."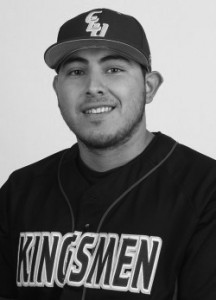 Jimmy Jauregui primarily serves as the designated hitter for the Kingsmen. He transferred from Los Angeles Mission College, where he played for two years.
Jauregui has played in 29 games for Cal Lutheran and has a .286 batting average, with 24 hits in 84 at bats and 17 runs batted in.
"The biggest difference for me was practice schedules. During practices it is very organized, we know what to do, we get things done and as a team we are working to get better each day and I just think that's the biggest difference between Mission and Cal Lu," Jauregui said.
Jauregui said he believes that a school where academics are set as just as high of a standard at athletics makes Cal Lutheran special and one of the reasons why he chose to come here.
Jauregui was a third basemen at LA Mission College and appeared in 32 games, had 113 at bats, 32 hits, 11 runs batted in and rounded out at a .283 batting average in 2013. He was named second-team All-Conference as a freshman.
In the 2014 season Jauregui  had 32 appearances at third, 29 hits in 107 at bats and a .271 batting average. He sat out the 2015 season with an arm injury prior to transferring to Cal Lutheran.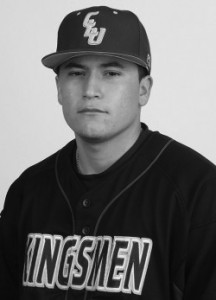 Eddie Villegas has emerged as Cal Lutheran's primary catcher. The  junior transferred from Los Angeles Harbor College, where he attended for three years but had to red shirt his sophomore year due to a knee injury.
While at Harbor, Villegas was known more for his defensive prowess behind the plate, but he has found his offensive stroke in a Kingsmen uniform.
For the 2016 season, Villegas has appeared in 26 games, has 29 hits and holds a batting average of .367, good for fifth on the team.
He played a large role in the Kingsmen's sweep of La Verne April 15-16, going 5-for-7 at the plate in two games.
"[Cal Lutheran] is different than Harbor because we have good team chemistry and are closer. At junior college you know just everyone is out there basically for themselves," Villegas said. "Getting here everyone has that one goal in mind which is winning a championship. That's a big difference. Everyone here is a lot closer and tighter as a team."
In the 2013 season at LA Harbor, Villegas appeared in 18 games, had eight hits in 37 at bats and finished with a .216 batting average. In the 2014-2015 season, he played in 31 games, had 19 hits from 84 at bats, had nine runs batted in and a .226 batting average.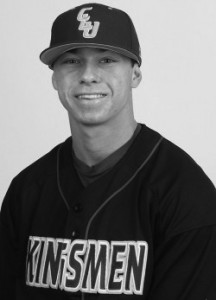 Max Weinstein is a two-way player for the Kingsmen, meaning he both pitches and hits. He and junior pitcher/catcher Trey Saito are the only two-way players for the Kingsmen.
Weinstein attended the University of California, Irvine for two years as a pitcher and redshirted his second year due to an elbow injury.
Like Clark, Weinstein was able to travel to Omaha, Nebraska, for the Division I College World Series with UCI in 2014.
Weinstein started the season as the Kingsmen's designated hitter and was poised to be a regular pitcher for the Kingsmen out of the bullpen, but an elbow injury has sidelined him for most of the 2016 season. Weinstein said he hopes to return by the end of the year.
"Definitely team chemistry wise, like the looseness of the team and being able to be your own player without having to follow any strict traditions or rules of the strict upper division coaches," Weinstein said. "It's nice to be able to play your own game with guys who are playing for each other rather than 'I guys' there for their own personal stats."
Weinstein graduated from Canyon High School in 2013 and won the Foothill League player of the year his senior season.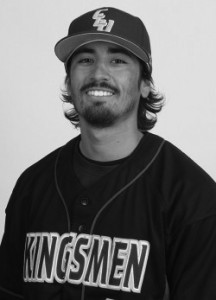 Bradley Fullerton is a junior outfielder for the Kingsmen. He attended and played baseball for Ventura College for two years.
Fullerton played in the outfield for Ventura in the 2015 season. He appeared in 36 games, had 132 at bats with 36 hits and finished the season with a .273 batting average.
Fullerton is the guy on the team that picks all of his teammates up with his good attitude he carries every day.
According to Fullerton, he brings "positive vibes" to the Kingsmen and feels his impact  has been great.
"The most rewarding part is coming together as a team and taking a great week of practice, going through that tough conditioning after practice when you are gassed and sweeping the series that weekend and just know that it was all worth it," Fullerton said.
Fullerton has appeared in 16 games for the Kingsmen, mostly as a pinch runner and defensive replacement, while he has made two starts.
A local out of Moorpark High School, Fullerton's father serves as the head baseball coach for the Musketeers.
Courtney Sooy
Staff Writer
Published April 20th, 2016