Softball sweeps Oxy, stays alive
The Regals softball team hit its way to a doubleheader sweep against the Occidental Tigers on April 23 at Hutton Field at California Lutheran University after  being swept on April 22 at Pomona-Pitzer.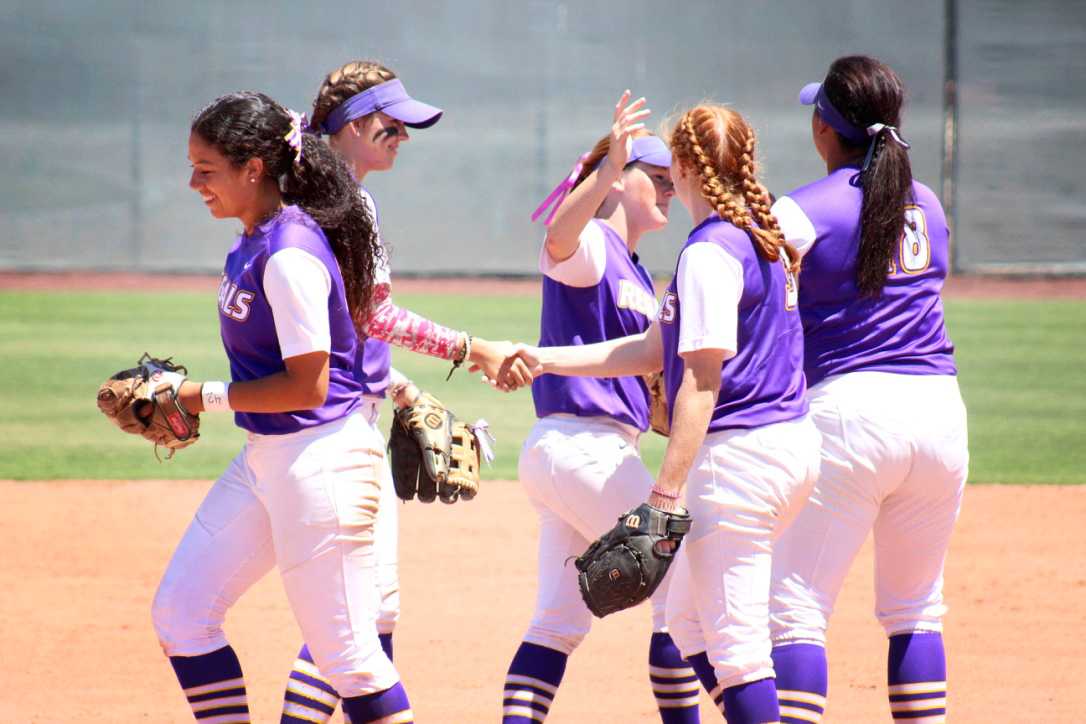 The Regals hit .404 combined in both games, exactly 100 points higher than their season batting average of .304. They also piled on 16 runs including nine doubles and one home run.
"Today we came out strong. We were ready just to have fun today and I think that's really what the difference was from today and yesterday. We felt a lot of pressure and today we just let loose and it ended up working out well for us," sophomore catcher Abbigael Howard said.
The Regals found themselves unable to get hits when they needed them against Pomona on April 22, resulting in low scoring losses by scores of 2-1 and 3-1.
"We weren't able to get the hits when we needed to. We had runners on base, runners in scoring position we just weren't able to come up with a big hit when we needed to and their pitching staff did a really good job of keeping us off balance. It just didn't work out for us," Head Coach Debby Day said.
The Regals turned it around against Occidental and felt less pressure resulting in an increase in offensive performance. The first game ended in a 4-3 victory, the second 12-10.
In game one, the Tigers led 2-1 after a homerun in the fourth inning, but the Regals responded in the top of the fifth with two RBIs from senior catcher Taylor Beacham putting the Regals on top 4-2. The Tigers were able to score one more run in the sixth but the Regals held on for a 4-3 victory.
In game two, the Regals took a 4-0 lead in the bottom of the second, with sophomore infielder Olivia Leyva extending the lead to 5-1 with a homerun in the third. During the fourth, fifth and sixth innings, the Tigers came roaring back and scored nine runs to take a 10-6 lead heading into the bottom of the sixth inning.
In the bottom half of the sixth with a spot in the conference tournament on the line, the Regals strung together five straight two-out RBI doubles to retake the lead headed into the last inning.
Junior pitcher Courtney Sooy was able to shut the door in the seventh and secure the 12-10 victory for the Regals.
"The bottom of the sixth we strung together like five doubles in a row and that's ridiculous, with a runner on second scoring every single time and I think our base running was really good today," Beacham said.
Sooy pitched a total of nine and two-thirds innings combined in both games, and recorded three strikeouts and allowing seven runs off 14 hits. Sooy also produced offensively with a 3-for-4 day at the plate, which included three RBIs, a pair of doubles and a run.
Along with Sooy, Howard stood out on defense behind the plate, with some impressive outs referred to as "beast moves" by Beacham.
"Abby Howard caught the first half of the second game and she caught a couple runners stealing, she was able to catch and tag somebody out at the plate. She set a really great tone back there and as a sophomore starting back there she did great," Day said.
Sophomore Olivia Leyva stood out on offense with a 4-for-6 day including two doubles, a homerun and a walk for nine total bases.
"Leyva really hit the ball well today and had great base running, really aggressive," Day said.
Focusing less on the pressure of winning and more on having fun, the Regals worked as a team to secure two wins.
"Today was one of those days where you could really see in them that they were having a good time. They were appreciating being out here and playing the game. What was especially great was there were so many different people coming through in so many different situations," Day said.
Going forward into this next week of practice and their next four games, the Regals aren't worrying about playoffs or winning, they are going to do the best they can and have fun doing it.
"Right now, we all enjoy playing with each other and we're just coming out here to have a good time," Beacham said.
The Regals (15-20, 9-15 SCIAC) take on La Verne back on the Hutton Field on April 29 in a doubleheader at 2 p.m. and 4 p.m. where the seniors will be recognized on senior day.
"We are capable of doing this, we are so, so able to and when we have fun and when we relax we can have fun and we can always pull it through," Howard said.
Lydia Snodderly
Staff Writer
Published April 27th, 2016