Regals Volleyball Remains Undefeated
The California Lutheran University women's volleyball team competed in the Cal Lu Fornia Invitational Sept. 9-10. This year marked the ninth consecutive time the Regals have hosted this tournament and they went out with a bang. They went 4-0, sweept all opponents and never lost a set.
The Regals started off the tournament by defeating Puget Sound 3-0 Sept. 9 in Gilbert Arena.
They maintained a strong lead over Puget Sound throughout all three sets of the game. Junior outside hitter Hope Stewart led her team with 12.5 points and 11 kills and teammate senior middle back Sarah Pappas also had a great game racking up 12 points and 11 kills. Junior setter Jaime Smith contributed 40 assists and an ace while captain libero Nicki Tetherow brought in 25 digs on the defensive end.
"I think everyone had a great game and our block was awesome," Tetherow said.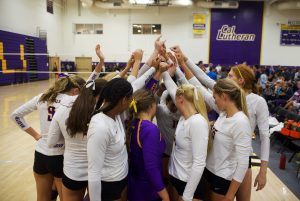 They carried this momentum into their second game against No. 20 Wisconsin-Whitewater and came out on top in their second 3-0 sweep of the tournament.
The Regals had 6-0 and 4-0 runs in their first set and a 7-0 run in their second set.  Sophomore outside hitter Amanda Roberts led the team in points with 12.5 and tied with senior outside hitter Michelle Lawrence, who had 12 points, for most kills at nine each. Tetherow led the team in digs with 18, while Smith led the team with 28 assists.
In day two of the tournament, the Regals began the day by facing off against East Texas Baptist. Lawrence led the team with 11 kills, 13 points and the only solo block in the game. Stewart had eight kills, eight digs and eight and a half points. Tetherow led with 11 digs on the defensive end and Smith contributed 58 assists.
Looking to end the tournament on a high note Cal Lutheran faced their final opponent Emory Sept. 10. Emory proved to be a tough opponent for the Regals, trading the lead between the two until Cal Lutheran managed to come out on top 27-25.
The Regals came out strong to start the second set and maintained that lead, defeating Emory 25-22. The Regals started off the third set similar to the second,  looking to end the tournament at home with a win.
They put away Emory with a 25-20 score. Almost every player contributed in points and kills. Roberts led with 13.5 points and 13 kills, while Stewart had 12 kills and 13 points.
The Regals look forward to another great season. Senior middle back Monica Lundgren said they're confident heading in to this season because they're playing really good competition.
The undefeated Regals next game will be Sept. 13 at 7 p.m. at home against Whittier, their first conference matchup.
Haley Townes
Staff Writer